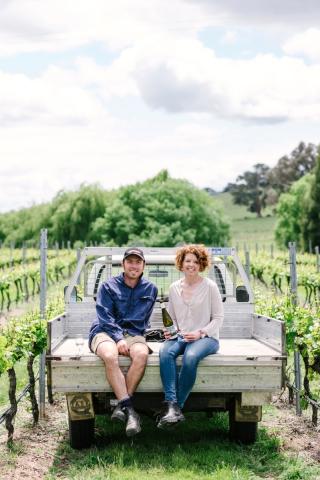 In 2019, Four Winds Vineyard was on a high.
Business was going well and there were lots of visitors to the cellar door. Sales were growing in New South Wales and Melbourne markets and the business even expanded to include a new vineyard and winery, Kyeema Estate – just a short 20 minute tractor drive away.
Things changed for this 33-acre family-run winery located in Murrumbateman in New South Wales, when the catastrophic bushfire season started.
"The bushfires slowed down visitors to the cellar door, as it wasn't pleasant to sit outside. There were days that we shut altogether as there was a catastrophic fire danger for our area," CEO Sarah Collingwood said.
"The bushfires were particularly tough as we were holding out hope that the crop wouldn't be affected by the smoke. This is something that you are not able to test for until right before harvest so we needed to continue to maintain the vineyard right up until the grapes could be tested."
Unfortunately it wasn't good news and Sarah and her family lost 98% of their crop due to smoke damage.
For the first time in 22 years, they weren't able to harvest any of their grapes to make wine.
Despite being faced with this incredible challenge and then the COVID pandemic, there was never any discussion about throwing in the towel.
"Friends in other regions have been really important to us this year. They helped us source some grapes from South Australia and that meant that we were able to make a small quantity of wine, including an $85 premium Riesling gin," Sarah said.
"We have been incredibly grateful for our customers. They supported us when we were closed by purchasing wine online and buying our takeaway pizzas. When we started to increase the cellar door business again, people travelled out to support us."
What started out as a dream back in 1998 for Sarah's parents, Graeme and Suzanne Lunney to grow and sell grapes, has turned into a very successful family business.
When Sarah and her husband John joined the business 10 years ago, they worked hard to build a cellar door, extend the winery and build an undercover seating area.
Today, Four Winds offers a beautiful setting and delicious wood-fired pizzas to go with their selection of wines.
While 2020 has been a very tough year for Sarah and her family, they are optimistic about the future.
"I love being a small business. I see huge opportunity for the growth of the business and the interest that people have in agriculture. People love coming out to see how wine and other food products are made," Sarah said.
"The vineyard is looking good, the winery is all set to go, the cellar door is back to being busy – we have been lucky that the disruption for us has been short lived. Fingers crossed we don't regress!" Sarah said.
"This season was disappointing but we have moved onto planning for the next season and we look forward to making some great wine in 2021."
Make a booking via the Four Winds Vineyard website