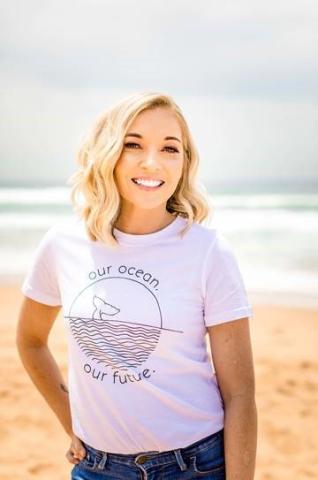 Carmen Ellis is living the dream – literally!
The founder of Majestic Whale Encounters has turned her childhood dream of swimming with whales and dolphins into a successful business.
Her first encounter with a humpback whale in Tonga in 2005 was the inspiration for her specialist tour business.
"I will never forget my very first whale swim," Carmen says.
"It was with a humpback in Tonga and not only was it completely surreal seeing this beautiful, huge creature eye to eye, but this experience completely changed my life."
That extraordinary experience lead to the creation of a small boutique tour business in 2014, which grew to a large family tour company with hundreds of clients. Then COVID hit.
"COVID impacted our business in every way," Carmen says.
"All the tours we ran at Majestic Whale Encounters were international, so the global pandemic stopped us in our tracks.
"At first our main priority was just to keep guests informed and let them know we were going to take care of them.
"So far, we have had to cancel more than a year's worth of tours.
"The biggest challenge for us has been the uncertainty. Not being able to give our guests clear expectations has been difficult."
Carmen, with the help of her sister and business partner Sarah, have remained resilient and agile in the face of enormous challenges in 2020.
It hasn't been easy, but they have used their time to adapt to the rapidly changing environment and continue to plan an epic comeback.
"Once the world is back to normal, we intend to hit the ground running and be bigger and better than ever," Carmen says.
"We have tried our very best to keep our heads up and thought of some new ways to survive.
"By introducing a new trip to Kangaroo Island next year, we hope that we can run something here on our home soil.
"We are also planning a tour to Antarctica and there is a quite a long waiting list for that when it comes online."
In addition to the core business, Carmen has also branched out in a new direction, becoming a children's book author.
"With the pandemic in full swing and travel shut down overnight, it was time for a big pivot," Carmen says.
"We put our efforts into writing ocean-themed children's books.
"We've published our first book "Nellie the Narwhal" and there's another two books to be released in 2021.
"We have been busy marketing to schools and different stores - it has been received really well so far."
Despite uncertainty over when international travel will resume, Carmen is busy making plans for the future of her business.
"Looking into a crystal ball may be difficult at the moment with the way that COVID has changed the world," Carmen says.
"This hasn't stopped us from making plans though. We have some extremely exciting tours up our sleeves!  
"Lots of effort has gone into keeping everything running and keeping potential clients keen and ready to book once international borders open again."
Find out more about Majestic Whale Encounters here: https://www.majesticwhaleencounters.com.au/