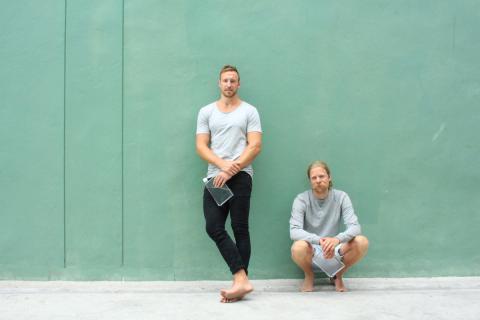 It was a conversation at 5am one morning that changed everything. The day before, Jesse Leeworthy had pitched an idea to lifelong friend Jonathan Byrt over Skype for a new type of reusable water bottle that he believed could lure consumers away from single-use bottles.
Having grown up in a coastal town on the Mornington Peninsula in Victoria, Jesse and Jonathan saw first-hand the devastating impact single-use bottles were having on their coastline.
They also recalled that throughout their schooling, university and working lives, they were constantly frustrated with the inability to fit round water bottles in carry/laptop bags.
"Somewhere along the line, society became fixated on designing cylindrical shaped bottles. Bottles hadn't changed shape in decades yet tablets, laptops and computer bags were all flat in their design. Round bottles just didn't fit with our modern lives. So, we decided to flip the equation," says Jesse.
In August 2014, Jesse and Jonathan launched their product on crowd-funding platform KickStarter. Their target goal was $15,000. Forty-five days later their product had 6,118 backers and received $261,148 in funding.
And so memobottle was born.
The memobottle is designed around international paper sizes (A5, A6 and A7) to neatly slide into carry bags alongside computers and books, or in your pocket or handbag.
The memobottle is an international hit. Not only is it sold in over 2,000 retail outlets globally and shipped to over 70 countries every month, it was a special inclusion in the gift bags given to the nominees of the 88th Oscar Awards in Hollywood in 2016.
"Using a global stage like the Oscars allowed us to have our message of sustainability resonate around the world. We have one planet; we are the first generation to feel the effects of manmade climate change and maybe the last that can do something about it," says Jonathan.
Jesse and Jonathan's business is a great example of how crowd-funding can be used to fund your business idea. In July 2017, they took to KickStarter again to raise money for the production of two new memobottles. This time, they attracted 2,421 backers and received $137,238 in funding.
Their advice for turning an original idea into reality?
"Give it a shot! The best thing about crowdfunding and social media platforms is that we now have the ability to put an idea out to the world and receive some accurate and informative feedback. 
Our advice is to work hard and work fast, put your idea out there to the world and use the feedback that you obtain, whether it's good or bad, to refine and improve your idea."