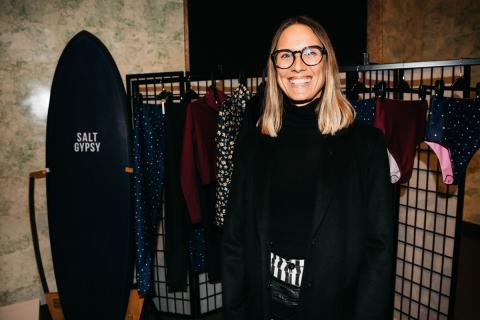 Danielle Clayton was working on a surf charter boat in the Maldives in 2012 when her women's surf leggings business Salt Gypsy came to life.
Danielle had a personal blog she used as a platform to showcase existing indie women's surf labels that were in the market around that time.
"Also, while surfing for months on end surrounded by blokes, I needed a way to connect with like-minded female surfers, so the blog and Facebook page became a source of online connection - which sounds strange to have internet access while sailing around tropical atolls!" said Danielle.
Growing up in New Zealand and then living and surfing in the tropics for several years meant that Danielle was very conscious of sun damage.
"There was nothing in the marketplace to cover my legs that suited my personal style or budget. There wasn't even any marketing around the concept of wearing leggings in the surf. So halfway through the 2012 season, I had two pairs of surf leggings made for myself and began blogging shots of me wearing them in the surf," said Danielle.
"At the end of the season and after feedback from other female surfers, I floated the idea of customisable surf leggings to the fledgling community I had been building through the blog and Facebook page. I received a handful of orders and that was it. I have been relentlessly developing the product and business ever since.
"The first challenge was that I had no money - I'm not even exaggerating! With only two sample pairs of surf leggings and a handful of photos, I had to figure out how to bring a product to market with no capital for inventory.
"And that was how the first of its kind - bespoke surf legging - was born. Literally a colour-by-numbers panelled legging template where women could choose the prints and colours for the different panels. I was paid up front, made the leggings to order then delivered to the customer four to six weeks later."
One of the other major challenges that Danielle faced and continues to face, is her design and brand name being stolen and copied. This happened in 2014 by one of the main global surf brands, which eventually ended up changing the name of its collection.
"And more recently, our biggest challenge has been scaling the growth of demand for our products and accessing significant funding for our business that would really give us a boost," said Danielle.
Salt Gypsy prides itself on being a sustainable surf wear company. Their products are made from 100% regenerated nylon yarn called ECONYL® with responsible manufacturing here in Australia and biodegradable packaging.
"When I first came across ECONYL® yarn it was such an exciting moment to see how plastic nylon waste can be used and regenerated into a new material. We had found a good business producing this great product and making it accessible to everyone," said Danielle.
"The stretch fabrics we use have been tested and found to be four to five times longer lasting, retain their shape, are UPF 50+and feels like a second skin - so luxurious for the wearer.
"For us, the challenge then becomes how to design surf garments more thoughtfully so our styles transcend the fast fashion trend cycle and become a classic staple piece a woman can wear in and around the ocean for many years.
"Ultimately, we want to be able to send back our community's end-of-life surf garments to the ECONYL® manufacturing teams so the pieces can be regenerated back into nylon yarn and in turn, created into new products."
Salt Gypsy was recently selected to be a part of Australian Amazon Launchpad, an online store for start-up brands to help bring their products to market.
"It was a whirlwind and the team at Amazon have been so great to work with. Their support of our story and what we do has been fantastic," said Danielle.
"Being involved in Amazon Launchpad has given Salt Gypsy the opportunity to showcase more of our brand story to new audiences and to relieve some of the pressure of fulfilment requirements. To be included alongside some great Australian businesses has been an honour!
"We're also excited to see how the Launchpad may be able to help us serve our US customers and international markets in the future."
Today, Salt Gypsy has evolved into a women's surf, swim and activewear brand and has a bricks and mortar store in Byron Bay called Sea Bones.
The Salt Gypsy brand sends a very strong message to the fashion industry.
"That if we, as a small self-funded business, can source better sustainable materials and produce responsibly with fair trade, then so can large companies with much greater financial and human resources. This is the new norm. Make the change."