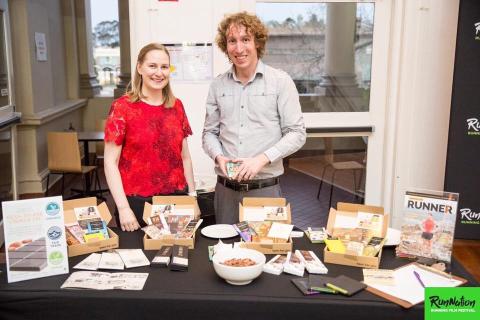 When you think about subscription services, the first thing that probably comes to mind is a magazine or newspaper subscription.
Husband and wife, Chris Brown and Alison Pearce, have gone one better and fulfilled every chocoholic's dream by creating a chocolate subscription service.
Alison has always loved chocolate. When they were living overseas in Ireland, they came across a similar chocolate subscription service.
"We loved discovering the different craft chocolate makers in Europe and exploring the different flavours of the cocoa. When we came back to Australia we looked around for something like that and were surprised when we couldn't find anything," said Chris.
"Given we had now become addicted to craft chocolate, and facing the realisation that there was no way to fuel our addiction here in Australia, we decided we would start a business to import craft chocolate. After finishing off our European adventure, we came back home and thought we would give it a crack, and started Bean Bar You as our side hustle."
It was a steep learning curve for Chris and Alison as neither had any business experience.
They started by doing research into the logistics of their business idea – things like the wholesale cost of craft chocolate, where to source packaging and postage options for distribution. Once they worked out it could be successful, they set up a web store and got in touch with some of their favourite chocolate makers around the world"
"We were lucky that many of the people we met overseas, and our friends who had experience in some aspects of business, were willing to share their advice to get us started. But there was still a lot of learning as we went on – and we're still learning even today!" said Alison.
Chris and Alison deliberately started slowly and small, so they could get their systems and processes organised before thinking about growth – they believe this was a very successful strategy.
"We have only recently got to the point where we feel ready to start advertising seriously, to try and achieve more rapid growth. We're looking to find efficiencies in some of the administrative aspects so we can maximise the impact of the time and energy we put into the business," said Chris.
"Growth isn't just about size. We would also like to grow the business to do more of the things we love. We pride ourselves on providing personalised chocolate boxes for each subscriber," said Chris.
"We collect and use data from our customers to improve their experience, which we hope to provide to the chocolate makers who supply us. Many of these are very small businesses that would find the feedback useful, to further develop their brand and product. These things don't cost us anything except time and adds huge value to our products and our business."
Chris and Alison have had some great feedback from their customers about their chocolate subscription service.
"Obviously people really like receiving delicious chocolate each month. They also love that it is personalised to them, and receiving information and tasting notes about each chocolate bar so they can learn the story behind the cocoa beans, the cocoa farmer and the chocolate maker," said Alison.
While their business idea has been well received by customers, Chris and Alison have encountered some challenges in running a small business that relies so heavily on international imports.
"As a small business paying international suppliers regularly, one of the biggest costs we faced was exorbitant fees for international payments through the local banks. We were getting charged up to $30 for international transfers plus a 3% international transaction fee," said Alison.
"As a small business with a really low margin that makes international transactions regularly, this was a big cost to us. One of our tips for other business owners is to look for alternatives to the banks for making international payments.
"Navigating the different regulatory systems can also be complex. Our suppliers often look to us for direction about what requirements they need to meet to ensure their chocolate meets Australian standards, so we have done plenty of research around that."
Chris and Alison do everything themselves, from stamping logos on boxes and folding them, taking product photos, managing the website and doing their own social media.
"Although we know this means some of our content isn't as polished as others, we have tried to incorporate that into our brand and story, so customers feel they are connecting with us as people and fellow chocolate lovers, rather than as a brand," said Alison.
"But it means a huge component of our costs is our own time and we have taken a while to truly learn the value of that. It's so easy to get caught up in the day to day tasks and lose focus of the bigger picture."