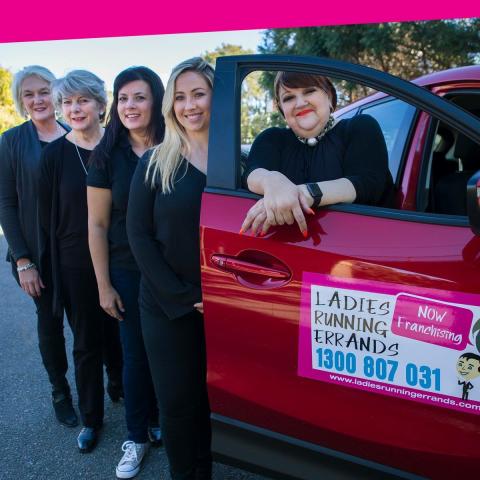 When a serious foot injury brought Maria Xynias' life to a halt as she knew it, she had plenty of family members around to help.
However, the experience made her realise that when life got overwhelming, many people weren't as fortunate as her and often had no one to turn to for support.
This prompted Maria to start Ladies Running Errands in 2011 – a business that helps Sydneysiders with errands and getting around, such as driving people to and from hospital or the airport, picking up kids from school, grocery shopping – and the list goes on.
Maria hit the ground running and she has never looked back.
"I started this business with a 1997 Falcon and 3,000 homemade flyers. I have always gone with my gut instincts and have always believed in myself 100%. It's all about will and determination for me. I just kept going 24/7 and never gave up! And I never listened to the 'nay-sayers'," said Maria.
Maria has encountered many challenges while running her business and says that knowing how to take the right steps at the right time as the business has grown has been difficult.
The biggest challenge for Maria was accessing the finance she needed to enter the franchising space.
"Accessing finance when you are a small business is easily the greatest challenge we face. Your business could be generating a quarter of a million dollars a year, but banks and other lenders will still not grant you finance unless you are prepared to list your house as security. You just need to be determined and to keep trying – I eventually found success on a peer-to-peer lending platform," said Maria.
Maria has experienced both the highs and lows of franchising.
"Franchising is an expensive undertaking. As the company grows there is the need to improve and expand on systems, increase marketing and advertising spend, and increase support staff," said Maria.
"I am driven by a sense of responsibility to my franchisees which can be quite stressful, but I have enjoyed seeing Ladies Running Errands rapidly expand to meet the growing demand for their services in the community.
"We now have eight incredible women who have their own thriving and very rewarding business. Ladies Running Errands has grown to a level we could never have imagined when we started nine years ago."
Maria loves running her business and is excited about what the future may bring.
"I love the people around me. I love my clients because regardless of how many challenges I come across on a daily basis – and there are many in this business – I am so grateful this is my business. I own it and I employ beautiful, talented, kind people who share my vision, which is the secret to our success."
"In my eyes, the future is endless for us. We are expanding nationwide which is so exciting, as it is my intention to provide a service for every single person who needs it.
"My advice to everybody is never, ever give up. Keep knocking on doors until one opens. That is what defines us at Ladies Running Errands."