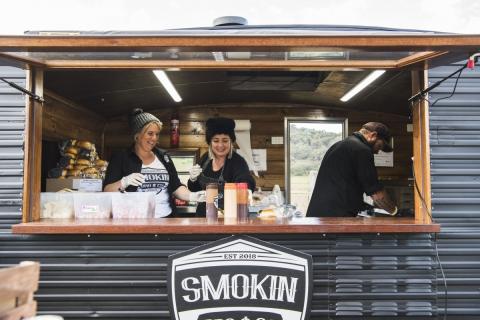 2020 was looking good for Mudgee food truck Smokin' Bro & Co.
The food truck, run by husband and wife team Brody and Laticia Crawford, specialising in American-style barbeque, have been on the up-and-up since launching two years ago.
Pairing up with venues that didn't or couldn't offer their own food options had proven a successfully strategy.
The business was going so well that Brody resigned from his full time job as a winemaker just days before the COVID shutdown to focus 100% on the business.
Within seven days of handing in his resignation, they had lost 90% of their private function bookings.
"Many public events that we had relied on for our estimated income for 2020 were also being cancelled or postponed – and still are today. We had to refund so many cancellations which left us on a knife's edge financially," Brody says.
"Personally I was very stressed. I had a lot of sleepless nights thinking of what we could do. The stress of how we pay the bills was obviously the biggest concern.
"We had to think quickly to try get to some income happening again, so that's how the idea of Smokin' Bro & Co home deliveries came to fruition.
"We worked out what we needed to make to scrape by, which was about 30 meal packs. We announced our idea to the Mudgee community one lunchtime and the orders flooded in.
"By that night we'd added four times the amount of meals, two extra delivery slots and had sold out!
Local community support is what has gotten this business over the line.
"Home deliveries and the local community support was our saving grace. We have a great, locally minded community here in Mudgee – we've always known that but to receive the support from them over and over again during COVID has definitely been humbling and we appreciate it a lot," Brody says.
Brody is fortunate that he doesn't have to worry about the expenses that come with having a shop front or full time employees.
For Brody and Laticia, thinking outside the square and adapting to changes quickly has been their saviour – and very good friends to help them out during the busy periods!
"Working with my wife and friends is great. We have a lot of laughs in our food van while serving the customers – they see it and I think that rubs off on them too. The customers love a quick yarn and a laugh while waiting for their food," Brody says.
Brody has big plans for the business. He is excited to set up the business in a permanent position near the centre of Mudgee, where they'll serve up their barbeque four days a week, and they'll keep doing events, functions and servicing local cellar doors.
"It is still very hard at the moment to lock in venues to pop-up at, especially because of the crowd that comes to us for our food – so we're thinking outside the box more and more about how we can keep Smokin' Bro & Co grinding away," Brody says.
"We had no choice but to back ourselves and our business to keep going. Quitting isn't in our nature. We had to make this work for the sake of our family. The success of the business so far and the strong following we've created is getting us through. We're lucky in that regard."
Check out the Smokin' Bro & Co Facebook page