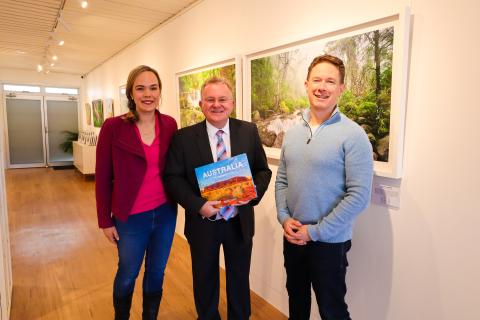 Introduced as an ASBFEO success story in 2021, we find out what advice Scott Leggo has for other small business and family enterprise owners in the post COVID-19 lockdown strategy.
Scott Leggo credits his unconventional background to his success and being named a 2022 Local Business Hero winner by Australia Post.
The talented Canberra based Australian landscape photographer has been a business owner for over 15 years and says reaction times, agility and business savvy are vital to success.
'No matter how great your product or service, what really matters is your ability to have a quick reaction time, being agile and understanding the commercials of business', says Scott.
For Scott, this comes naturally thanks to spending time in the military where the speed of decision making and then execution was crucial.
Like thousands of other small business owners, this is a family commitment by Scott and his wife, Phillipa Leggo, a Fellow Certified Practising Accountant and the Commercial Director of the Scott Leggo business. As well as boasting a successful background in major accounting and finance firms, she is a former ski instructor.
The gallery had only been open for a couple of years when they heard about the pandemic and lockdowns happening overseas. Their quick, savvy thinking had them immediately planning for contingencies to shore up their business operations.
'If lockdowns happened in Australia, we knew that the gallery would close, and we needed a strong online alternative – such as turning my photos into jigsaws. We started making enquiries about sourcing a local supplier of puzzles, and we went from there, says Scott'.
While this puzzle pivot got them through, the financial margins were very tight, and it was out of alignment with their brand positioning. However, Scott says, 'if we had not have done that we would almost certainly not be here as a business today'.
The next response was a premium quality hard cover coffee table book.
'During lockdown we started thinking about other revenue streams and what else we could do to keep our business growing'.
The book showcases Australia's beautiful landscapes and displays a selection of Scott's photographs. It's perfect for any home or office coffee table and a thoughtful gift. It was brilliantly timed for release as Australians emerged from lockdown and people looked to satisfy their desire to travel again.
Scott and Phillipa are now planning for the next phase of business growth, focusing on their 'premium quality wall art' sold through their Canberra gallery and online store as well as adjusting to a new set of economic challenges.
They are also determined to discover what 'normal family life' might be with their two children, both under five.
'It was challenging running a small business during the lockdown, even with or perhaps because of the pivots. There was only one jigsaw supplier in Australia, so we had a long list of pre-orders to meet. Our loungeroom had to become the fulfillment centre.
'Now that the gallery is open again, and the team continues to grow, we always try to remember to make time for other things, to remember why we are doing this', says Scott.
Congratulations and best of luck to the Leggo's, we can't wait to see what comes next!
For more information about the Gallery and Scott's work you can visit Scott Leggo's website