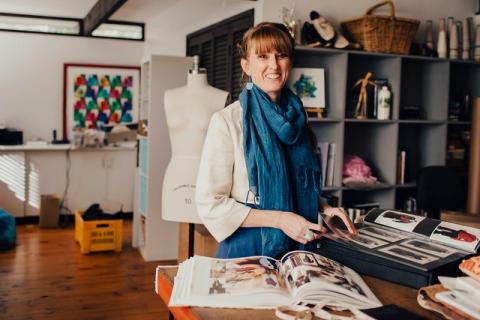 For ethical fashion label Pure Pod, the past month has been transformational.
Not by choice.
Like many small businesses, Pure Pod was hit hard by the COVID-19 crisis.
Designer markets were closed, supply chains were severely interrupted and sourcing fabrics became increasingly difficult.
Pure Pod's CEO Kelli Donovan, who has been running the Canberra-based business since 2007, says all of these dominoes fell – seemingly overnight.
"Three weeks ago I had no idea what I was going to do," Kelli says.
"I felt like I was free falling with nothing to grab on to.  
"My sales were slowing and I was left feeling extremely stressed and anxious without any income.
"And it's not just my business affected, there's a whole network of retail and well-being businesses we work with that have had to close their doors.
"Before this, we were working on some interesting ethical designs and employing locals to produce them, but that's all on hold now."
Then Kelli had an idea that would not only change her business, but make Pure Pods part of the solution. Hospital Scrubs.
Through friends in the medical industry, Kelli joined the Facebook group "Adopt a Healthcare worker," and saw an opportunity.
"I noticed that many medical staff were desperate for scrubs and I knew I could help with my skills," Kelli says.
"I launched 'Scrubs with Love' in one week and now we have lots of orders rolling in."
Pure Pod has been inundated with orders both directly from medical practitioners and companies along with those who have been buying these scrubs as a donation for the health worker they have adopted.
"It's been a very fast pivot and I am amazed at the amount of orders we have had so quickly," Kelli says.
"I can see this area growing rapidly if the situation gets worse in Australia, but hopefully it doesn't."
A big part of Pure Pod's transformation was changing the sustainability focus of the business to ensuring healthcare workers get the best quality scrubs fast – using conventional cotton.
"I changed our website and added scrubs, talked to local business advisors and the media to promote what we are doing by making these scrubs," Kelli says.
"Our first shipment of scrubs will be ready soon to send out to people in Melbourne, Sydney and Canberra.
"Even though we are still making clothes, it has a different vision to it and like working in sustainable fashion, it has a strong community voice to support it."
Scrubs with Love can be found on the Pure Pod website  where medical professionals can buy direct or people can donate to a healthcare worker.