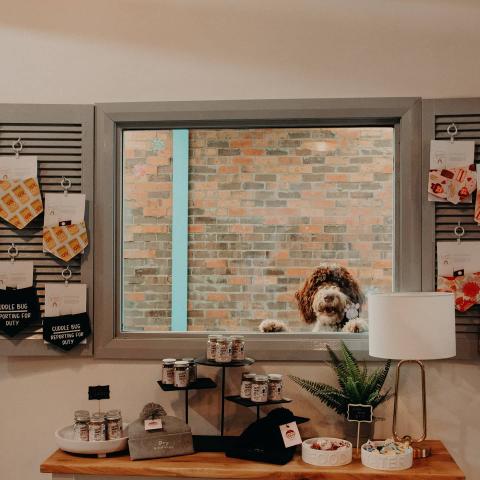 From day one, The Dawg Studio has been a labour of puppy love for Hilde and Sarah.
The mother and daughter dog grooming duo combined their love for canines and customer connection, establishing their small family business in Queanbeyan, just outside of Canberra, in June 2021.
"My favourite part of the job is building those personal and trusted relationships with our canine and human clients," Sarah says.
"We have had so many dogs come to us anxious or anti-social and we see them completely transform. The owners can't believe how happy they are!"
Starting a business in the midst of a global pandemic wasn't easy, but Hilde and Sarah saw a gap in the market for grooming and doggy daycare services and went for it.
The Dawg Studio focused on growing organically and nurturing customer relationships, supported by a solid social media presence – which has seen business ramp up.
"Social media interaction is a huge part of our business and it became even more critical during lockdown," Sarah says.
"We try and post regularly so people can stay connected with us and get a real life look into daily life at the studio and what we are about.
"During the pandemic we introduced 'Studio to you', an online video series covering various topics, issues and questions related to grooming and dogs in general. We found this very successful and clients loved that we were still interacting and answering their questions even though we're not face to face."
Once restrictions eased, the Dawg Studio has been welcoming more customers through its doors.
Both Sarah and Hilde put their success so far down to planning and having a support network of trusted advisers.
"Plan, Plan, Plan," Hilde says.
"Have a solid business plan and project plan. Good templates can be found online.
 "I think it is fair to say if you plan you can determine about 80% of what needs to be done with the other 20% being things that you need to navigate through just as a matter of course. Limiting surprises is good.
"Engage with a good accountant who can closely support you through your first year and beyond. Our accountant has helped us set up the right company structure and meet our tax obligations
"We have also had great advice in relation to cash flow and the right time to expand."
Sarah and Hilde are passionate about supporting Australian owned small businesses and have made an effort to stock pet products in their dog boutique that are Australian made or owned.
"We stock products such as collars, leads, bows and bandanas from four Aussie small businesses," Sarah says. 
"We have not only found that these products sell very well but customers love that they are sourced locally.
"It also gives the shop a much more personal feel as customers know our products are unique and usually very limited in stock.
"We love it when new stock comes in. There is a very special feeling when unpacking handmade products and receiving thank you cards for supporting someone's else's business dream." 
Visit The Dawg Studio.