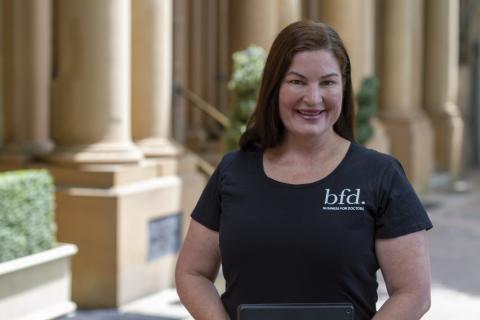 As a nine-year old, April Armstrong often destroyed gardens by ripping the stems and branches off plants and claiming it was for a business she was starting.
She was always in trouble as she would take the cuttings, propagate them and sell the regenerated plants on the roadside.
And that's a perfect metaphor for so many parts of April's story.
The family moved to central Perth from a farm, so the bush mentality of creating something from nothing was etched in her thinking. The idea of making money by working for yourself was embedded early.
"I feel my childhood led me into ideas of wanting to achieve different business goals," April reflects.
"When I was 12, I had a part-time job as a vet assistant and did that for three years. I left home when I was 15 and went to work full-time on a farm."
April then worked for the Department of Agriculture in research, until she had her first child. When her child was three months old, April started working as a data entry operator, then six months later moved into retail sales, followed quickly by promotions into management.
Eighteen months later April moved back to Perth and took on a role working with a private investigator. After five years in the industry she decided to call it a day.
By this stage April was a single mother to three daughters, aged 13, 10 and three, and the pressures of life were mounting. Given that "my eldest daughter wanted to be a pilot, I knew that would take a bit of work, not only on her part but also on mine. She needed a tutor and there was no way I could afford to pay for one, so my idea was to tutor her myself and that's when I decided to go back to school.
"Fortunately, the thought of learning appealed to me," April recalls, "so I decided to study physics and chemistry so I could help her achieve her goals. When I enrolled I was told I had to choose a pathway because otherwise I'd have no motivation to complete my studies.
"I grabbed a careers booklet and started thumbing through it. When I got to the letter D, I turned the page and there was doctor. I thought, 'that would be really amazing, I'd love to be a doctor'."
Given April had left school at 15, she was told that before studying to be a doctor she would have to complete years 11 and 12; she was 32!
April happily recalls that "it really was a wonderful time in my life; my daughters would go off to school and I would follow. We'd pack our lunches together, we would do our homework together; it was fun for me after working since I was 15. I was a much happier person."
After graduating, April moved to Adelaide and completed her GP training in rural South Australia. In 2013 she moved to Kalgoorlie and set-up her medical practice for which she has won WA Telstra Business Woman of the Year.
It was around this time that April launched Business for Doctors; a Facebook page called just what it was: a page to help doctors with their businesses.
I started with about 30 of my colleagues from university, and that has now grown to nearly 20,000 in just three years."
"Business for Doctors was never set up with the intention of being a business, we actually went into start-up phase when the business had been running for two years. I've had to put aside my medical career for the moment to run Business for Doctors as a business."
Given the endless supply of information "we as doctors need to keep up to date with, this platform is a way for us to discuss that with relevance to being a health practitioner. We have 97% engagement online, which means at any given time up to 16,000 people are engaging with the site over a 24 hour period."
"I believe that's because the content is not only relevant, but interesting, and it's often a topic that previously was taboo for medical practitioners, so it's opening a door for them to discuss these topics in a safe environment."
The need for information hasn't been the only surprising result for April: she believes it's also helping doctors become better doctors.
"One of the discussion points has been the potential of setting up a specific month where doctors seek out a health check for themselves."
"Through the site, we're working on concepts such as getting doctors to dedicate some time in the middle of the day where they actually leave their surgery and go outside. Even the coffees they have during the day are usually brought to them, so getting outside and going for a walk is something we believe is an important way of looking after their own health and in turn improving their level of care."
There are two very clear pieces of advice from April Armstrong about starting out in business, and they are to know why you're doing it and to have a vision.
"If your vision is clear it's much easier to write a business plan and then you can start work on your marketing plan and how you're going to target your audience. Have the vision, believe you can achieve it and make sure you write it down. There's something about writing it down that has a direct impact on your brain."
April is also a believer in seeking a mentor. One of her mentors runs the biggest trucking company in WA and another is a very successful lawyer, and for April "both have been very good sounding boards and have been through what I'm experiencing. I allow both to be completely honest with me, even if it means they might offend me. Their experience and their willingness to share it with me is crucial to my success."
Excerpts from 50 Unsung Business Heroes, Series Two