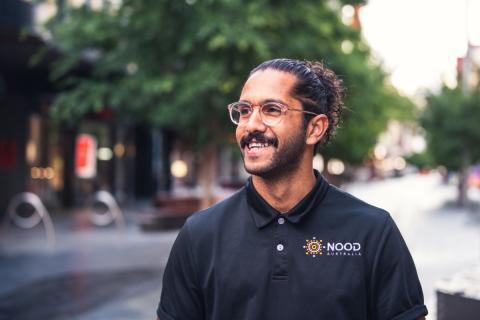 It's fair to say our collective focus on hand hygiene has kicked up a notch in 2020.
But indigenous business owner Anthony Wilson developed an interest in handwashing products well before the global pandemic entered our frame of consciousness.
His business, Nood Australia, makes a range of skincare and cleaning products using Australian native botanicals.
"I was inspired by the amazing properties that our botanicals hold," Anthony says.
"Kakadu Plum for instance has vitamin C potency.
"It is something I wanted to learn more about and I have learnt a lot but there is plenty more to learn.
"I am working with communities on sourcing botanicals that are grown locally. It's a work in progress."
Nood Australia began trading about 15 months ago, but Anthony is already eyeing expansion.
"We initially launched into the B2B market and are about to expand into the B2C market," he says."We have now developed guest amenities for a national hotel chain and we also supply Perth airport with their hand hygiene products. We are growing slowly in South Australia and hoping to reach more clients nationally."
As a proud Ngarrindjeri and Kaurna man, Anthony incorporates and shares indigenous culture through his business.
"We try to teach as much as we can about indigenous culture through NOOD," Anthony says.
"We utilise Kaurna Language to name our products - for example, Kudli means clean in language. We also try to utilise as many sourced Australian native botanicals as we can within our products."
Anthony is also encouraging the next generation of indigenous entrepreneurs to follow their dreams.
"Just do it," he says. "Research the market and most of all – don't be afraid to fail.
"This journey has been a huge learning for me but I have enjoyed every minute of it."