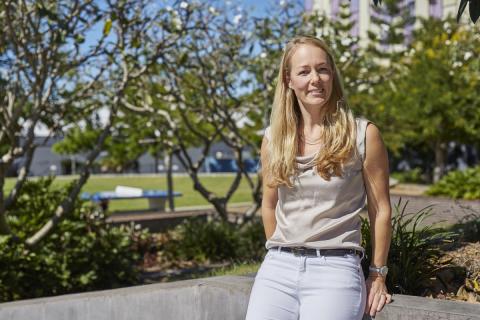 Like all new parents, Astrid Schwartz learnt very quickly the value of sleep, both for herself and her baby.
It can be hard going anywhere with a newborn without disrupting their sleep, so Astrid decided to make a nest for her baby to sleep in when they were out and about.
After constantly being asked about it by other parents, she realised she had created a product that was in demand.
"I made nests for my babies when they were newborns and I just couldn't live without them. My babies quickly settled when I placed them in the nest; perhaps they recognised the smell or they liked the soft snug edges," said Astrid.
"I used them everywhere – around the house, at friends places, in the park, while exercising and while travelling to Sweden where my family lives. I couldn't understand how other new parents could survive without a nest, so it became my mission to give them a rest by providing a healthy and safe place for their bubbas to sleep."
In 2015, Astrid responded to the interest in her nests by starting her business, Bubnest.
As a mum, Astrid became more aware of the amount of plastic and chemicals we use and the increasing number of allergies in children. So at Bubnest, they purposely produce nests made of purely organic materials, free from toxins and chemicals.
Astrid used to work full time in the finance industry so running her own business makes family life easier. Since she quit her corporate job, her flexibility has increased and she can plan her days around what suits her family.
"I believe people work best when and where it suits them, which is why I also believe in flexible working arrangements. I think our team really enjoys being in control of their own time and being able to plan their days to suit their lives," said Astrid.
While Astrid enjoys the flexibility, she found starting a business challenging.
"Starting a business is a challenge, but a very exciting and fun challenge. The hardest thing is figuring out what to sell and why. I believe you need to be so incredibly convinced that the world will be a better place with your product or service. It is that absolute conviction that keeps you going on the really tough days or the late nights," said Astrid
"There is a lot to get your head around in the set-up process, but it is easy to get help online, calling customer service areas and chatting to other entrepreneurs. Running a business involves a variety of tasks; everything from creativity and design, to crunching numbers and negotiating contracts. It's a constant problem-solving challenge, which makes it very exciting.
"Reading reviews from parents saying our product is helping their baby sleep and giving them a rest is the best part about running Bubnest!"
Bubnest was recently named in Queensland's 100 Faces of Business campaign, which recognises outstanding businesses meeting the needs of their local community.
"Through the campaign we found out how much small businesses mean for Australia. For Bubnest to be recognised as a contributor to this definitely gave us a confidence boost!" said Astrid.
Astrid says she loves spending time on something that creates value for customers and her team.
"We have an incredible team of seven ladies – both seamstresses and others who work in the business. Without the team we wouldn't be where we are today. Working with people you admire and love makes work fun and meaningful, and I am a much happier person as I get to do what I love," said Astrid.
"My best advice is to find a product and service your heart beats for and the world needs. When you find that idea, do three things every day even if it's small tasks such as sending an email, talking to someone, registering a homepage, designing a logo or registering an account on social media. Before you know it you will be well underway!"