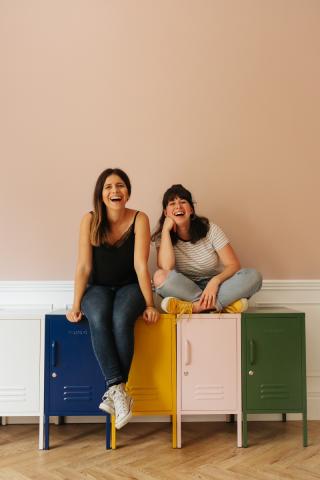 The idea started with a walk by the ocean for two sisters who usually live on opposite sides of the world.
The many conversations between Becca and Jess Stern were usually about their shared dream of starting a business together.
In 2018 – following lots of research, reading, brainstorming, dreaming, meetings, lists and finding a manufacturer – their dream become a reality.
"We launched Mustard in Australia in February 2018 and then in the UK in September the same year. I went into business with my sister Jess who lives in London, which was one of the biggest driving factors; we wanted to work together so we could see each other more!" said Becca.
Mustard produces both tall ("The Skinny") and short ("The Shorty") lockers that have been reimagined for modern homes and work spaces.
Why lockers? Becca has always had a thing for them.
"The idea of lockers was driven by my slightly strange affection for rusty old furniture and the love I have for the old lockers in my home and previous jewellery studio. They were beautiful but never the most efficient or practical storage," said Becca.
For Becca, she finds the day-to-day tasks of running a business the most difficult.
"As a creative thinker, I've found the logistical tasks the hardest because it's difficult to get inspired by shipping! We have large, heavy products and Australia is huge so it took me months of research to find the most streamlined solution to get the best shipping rates possible," said Becca.
"I have learnt a lot in the process and pushed myself to keep focused when it isn't my natural interest. Throughout our journey so far, the hardest moments have been when we feel most out of our depth. But inevitably we learn, get help and keep moving forward until we look back and realise we have come a long way."
"If I had to give one piece of advice right now I think it is that you have to be passionate about business to run one successfully.
"A lot of small businesses start because people have a passion for something in particular that they want to offer, but in my experience 80% of your time is pure business tasks that have little to do with the thing you originally had a love for. You can't ignore the marketing, accounting, HR, logistics and all the other stuff; you have to give it equal share of your love!" 
Becca has also found it challenging to balance being a mum and running a business. While it's difficult, she is committed to finding ways to separate work from the things that are important outside of work. 
Becca and Jess believe their business name suits them perfectly as, like lockers, Mustard (both the colour and condiment!) might not suit everyone's tastes.
But there are plenty of people that love the idea – Becca loves seeing their products in people's homes, knowing they created things people want to buy.
"The good feedback we get is so rewarding because it's the direct result of our work. Working with my sister makes it all the more fun as I have someone to share the highs and lows with, who knows me better than anyone," said Becca.
The future looks bright for Mustard.
"We have some new products coming in the next few months which we are bursting to share. I hope we'll grow into a recognisable brand that is engaging, inspiring and positive," said Becca.
"I strongly believe in growing sustainably so we don't want to stretch too far too soon, but we have already been amazed at where we are just one year in!"