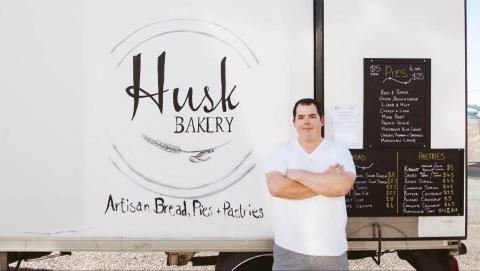 The smell of fresh baked goods wafting from your local bakery each morning is one of the simple joys in life.
Ovens packed with pastries, breads and delicious treats, have been the traditional way to lure hungry customers into the shop.
But COVID-19 and the necessary social distancing safety measures changed the way bakeries and other food-related businesses could operate.
Husk Bakery was no different.
"Business was declining quite quickly particularly in the early phases when social distancing measures were being implemented," Husk Bakery owner Aaron Clark says.
"Each time the Prime Minister would do a press conference I would nervously wait to see if we were going to have to shut… I would crunch the numbers and my staff would message me to see if we were going to make it. It was extremely stressful for everyone."
A seasoned baker and pastry chef, including a three-year stint with iconic Canberra bakery Silo, Aaron set up Husk Bakery in October last year and has also been selling his baked goods at local farmers markets.
In the first few months of operation, his business was impacted by the bushfire smoke that blanketed much of the capital during December and January, and then a damaging hail storm.
But COVID-19 presented hurdles that initially seemed insurmountable.
"The uncertainty at the beginning of the COVID-19 crisis was a challenge because you have staff that rely on you and as a small business owner you want to make sure your staff are OK," Aaron says.
"I had to start planning for the worst case scenario and how I could overcome people not leaving their homes."
Then came the light bulb moment.
"The idea hit me if they can't come to me, I will go to them – in the most fun way possible," Aaron says.
"So the mobile bakery was born."
It's only been a few weeks, but Husk Bakery Van is doing a roaring trade, visiting the suburbs of Canberra with customers able to buy his delicious treats while still dressed in their PJs.
 The van even has a sound system installed – Mr Whippy-style – so the whole street can hear it coming.
Marketing is on a budget, with Husk Bakery Van relying mostly on social media to spread the word.
"Social media has been a blessing and very effective in helping my business grow," Aaron says.
"It's allowed for flexibility and interaction with many different people that we wouldn't normally meet. People know of my bakery now which is really quite amazing."
And other businesses have benefitted from this strategy as well.
"We tell our customers that we are at the farmers markets each weekend and there's been more people visiting the farmers markets, which has helped other stall holders," Aaron says.
Despite being thrown into this difficult situation, Aaron describes his pivot as crazy and the most fun he's ever had.
So what happens when this is all over?
"My number one goal has been to have my own store and incorporate the farmers markets and mobile bakery into that model," Aaron says.
"In this situation I really had to think of the best ways to utilise the resources I already had to optimise my business. Having limited resources really does result in creative solutions which is why I chose home delivery with a fun twist."
Check out Husk Bakery Van's Facebook page.