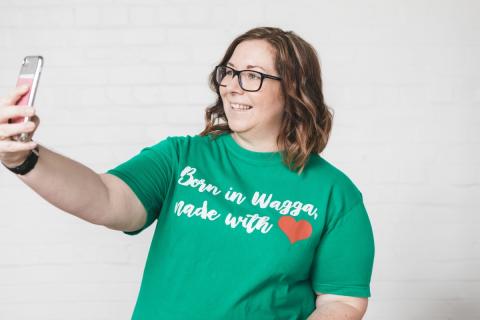 If you often get stuck in long queues waiting for your coffee order, you might want to read this.
When Simone Eyles launched an app called 365cups back in 2011, she never expected it to become as popular and successful as it is today.
The 365cups app allows people to skip the queue and pre-order coffee from their favourite café via their mobile phone.
Simone and her business partner, Mariusz Stankiewicz became friends as housemates at university. Simone graduated with a graphic design degree and Mariusz with a degree in information technology.
The idea for the app came to Simone while she was having coffee with friends.
"We knew it would work, but we didn't know if anyone would use it. We knew we would only find out the answer to that question by building the app and going live, which we did and straight away it just went nuts!," said Simone.
"I often tell people we were a start-up and we didn't even know what a start-up was. We just had an idea and over a period of 12 months worked away at building the app and setting up the business."
While Simone didn't have an aspiration to run a business, she desperately desired creative freedom.
She has worked at many places where her ideas weren't always accepted so being able to execute her own idea was attractive. And the fact that more than 1.5 million orders have been placed using the app since its launch is an added bonus.
For Simone, the key to her success is hard work, persistence, not taking things personally and never giving up.
"We have had to deal with some hairy situations. In the early days there were lots of internet outages and I would get very stressed out. Now when we have an outage we follow a process to get it fixed and communicate with our clients and users – most people understand," said Simone.
"What I love most about running my business are the people I get to work with. We provide a solution that helps cafes extend their reach and serve their tech savvy customers. It isn't about being faceless or robotic, it is just a simple innovation and everybody wins."
Simone runs her business from Wagga Wagga in New South Wales, which shows that with a good idea and the right skills, regional Australia can compete in the global economy.
Simone also runs another business, Working Space HQ, a co-working space where people can connect and collaborate.
In 2016, Simone also launched Incubate @ 35 degrees, a program to nurture and support start-ups, with an aim to help launch 100 start-ups in regional Australia by 2020.
Simone has this advice for those thinking about starting a business.
"Start now - there is never a perfect time or right amount of money to start a business. Also, follow your gut. Everyone will have an opinion or some advice; you don't have to take it all on board. Even if you make a mistake, it is better to try and learn than not do anything because of what someone said,' Simone said.
"I have no regrets – hindsight is a beautiful thing. I am really proud of what I have achieved."