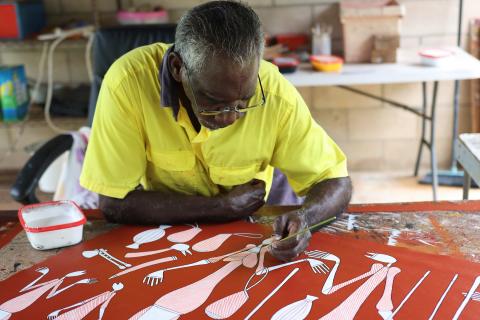 Kunwinjku Fine Art's creations are history in the making.
Indigenous artist Leslie Nawirridj's artworks embody the culture of his Western Arnhem Land ancestors over thousands of years.
His work brings to life the unique experience of his tribe and reinvigorates the rock art produced by generations before him.
Leslie's wife Alison, who is also his partner in business, says conveying the value and authenticity of the art to customers is an important aspect of their small business.
"Since we started this business 15 years ago, it has been important to us to educate people about the value of these artworks," Alison says.
"The art is truly unique in that it reflects a specific region and such a rich indigenous history. It's steeped in culture but still has a special place here and now."
Appreciation for Leslie's art has spread across the world, thanks to the tourists who have visited their shop at the Fort Hill Wharf cruise terminal over the years.
"A highlight for us was getting an email from a customer in Minnesota who was looking to expand his art collection. He commissioned a large artwork from Leslie and when he hung it, he sent us a photo of it and said he had taken down his Picasso!" Alison says.
Demand has been strong locally too.
"We've also sourced art from Leslie's family – they are a very artistic tribe," Alison says.  "They produce the same style of art and use the techniques of painting Kunwinjku Aboriginal art."
Kunwinjku Fine Art, like so many businesses, underwent a transformation in the pandemic.
The shop Leslie and Alison had for 10 years at the cruise ship terminal closed with the precinct in March 2020.
It was time to move their business online.
"We reached out to (Northern Territory) Small Business Champion Vanessa Carusi, who helped us get a grant for an online shop," Alison says.
"We had a website but we weren't able to sell our paintings online, so we worked with a website developer to do that. It was something we had always talked about and wanted to do, but we were always too busy with the shop and the markets. I guess the positive side of COVID was we had the time to do it. The new website has only recently launched but we believe it will be an important part of our business going forward."  
Visit Kunwinjku Fine Art at https://kunwinjku-aboriginal-art.com/