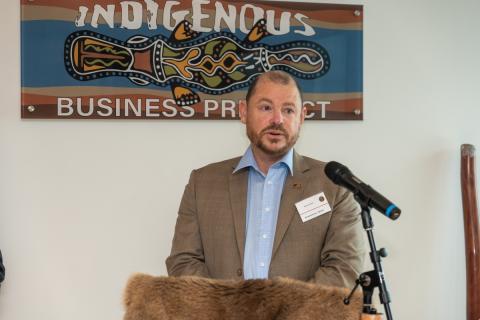 The oldest culture, the latest technology.
It's a business tagline that's so powerful it is almost a mission statement.
Willyama Services is an IT company steeped in indigenous culture and achieving greatness, despite the challenging conditions most business have had to contend with in 2020.
Owner Kieran Hynes is proud of his Aboriginal heritage and his business, which unlike many, has actually seen substantial growth this year.
"We have doubled since the start of Covid with a number of key government and commercial contracts being signed in the last six months," Kieran says.
"Our 'Reconciliation in Action' program, providing employment opportunities for indigenous staff has been particularly well-received, with many organisations engaging us to deliver this and other services,  predominantly in the IT sector.
"We have been very lucky and we have ramped up hiring to provide jobs to many who have not been as lucky."
Willyama Services began in Kieran's home office in Canberra in 2016 and has gone from strength-to-strength.
He now has over 40 staff working across four states and the ACT and Willyama is the only 100% Aboriginal and veteran owned IT and cyber company operating nationally.
Indigenous culture is reflected in every aspect of the business, including everything from the office fit out to sourcing supplies from other indigenous businesses.
Willyama partners with a number of indigenous organisations and sponsors everything from the local indigenous rugby league team to the newly established Indigenous Business Precinct in Canberra.
Kieran is determined to see this important initiative grow.
"This is part of a new chain of national Indigenous Business Precincts that was originated in Brisbane as a joint venture between SupplyAus and another Aboriginal owned business, the Cryogenics Group," he says.
 "We are looking at Indigenous partners in other states to complete the national chain. 
"Here in Canberra we plan to offer a range of training and services from the premises."
While business has been on the up-and-up – it hasn't always been that way.
"In the early days, the biggest challenge was finding a client willing to engage a business that overtly identified as indigenous," Kieran says.
"The first four months was a blur of cold calls, random emails and filling out tender responses.  We finally singed our first contract and haven't really looked back since. 
"That being said, you need to always be 'on the hustle' to make sure you have a sufficient pipeline to keep all the staff in a role."
Kieran, who spent more than 20 years in the Australian defence force as an army officer, is on a mission to increase the indigenous and veteran presence in the federal IT sector.
He knows this is an inter-generational project.
"Our next goal is to implement our 'vocational continuum' program," Kieran says. 
"This is a program for indigenous school students from Year 8 through to post high school, who start participating in various programs that are supported by CIT and UC,  to give various education options, with Willyama managing the employment and vocational aspects. 
"The intent is to create 20 indigenous IT trainees as a minimum over the next five years, to complement the five who are already in training."