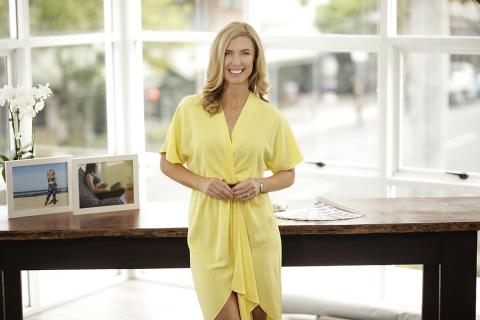 When best friends Nadia Tucker and Stevie Angel moved to Brisbane on the same day in 2011 and became neighbours, it was inevitable that they would go into business together.
They shared many baby play dates and pram walks and the same experience trying to find quality active wear to return to exercise post babies.
After a number of negative shopping experiences trying to buy beautiful printed tights that would perform as promised through a workout, they decided this needed to change.
"We saw a gap in the market for a brand that not only serviced the activewear needs of women but celebrated them too. Once we recognised the need for a brand like Active Truth it was a case of 'someone needs to do this, and why not us?" said Nadia.
Nadia and Stevie launched Active Truth three years ago with 100 pairs of tights in a plastic tub, a homemade website, no marketing budget and full-time day jobs.
The Active Truth team has now grown to six and there are 30,000 women wearing the brand.
Nadia puts this success down to 'having the courage to be different' which was recognised at the 2018 Telstra Business Awards when they won the 'Emerging and Energised' award.
"This award provides us with a platform to make women visible and to challenge stereotypes and bias around health, wellness and body image. It's given us an amazing opportunity to network with incredible leaders and businesses that provide us with inspiration and connection to make great things happen," said Nadia.
It hasn't all been smooth sailing for Nadia and Stevie.
"We encounter challenges every day! Some are small bumps in the road. Some are mountains we need to climb," said Nadia.
"Our greatest challenges to date have been keeping up with demand and managing cash flow. Investing our time and resources in diversifying our manufacturing, financial advice and distribution has allowed us to work through these challenges.
"One of the best things we did was undertake a two day finance course which provided a practical guide to analysing financial data and understanding the implications of financial performance."
The Active Truth brand sends a strong message to women – "be the best version of you!"
"We are disrupting the activewear and fitness industries and building something special - a community of positive, kind and strong women who believe in building each other up and cheering each other on," said Nadia.
"Our brand celebrates women of different shapes, sizes and stages of life, through showing our clothing on a diverse range of women and never photo shopping them.