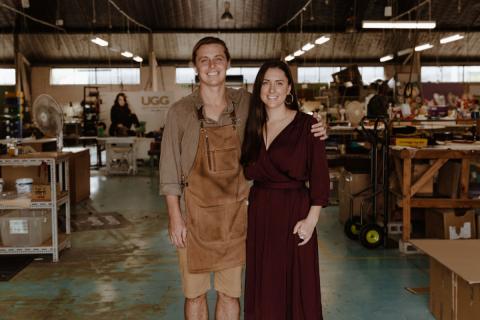 2020 has been one hell of a ride for Gold Coast wool manufacturer, UGG Since 1974.
The family business that has been passed down through three generations, was close to the brink in January.
The iconic UGG boot manufacturer, which had grown to rely on the Chinese tourist market, was one of the first businesses to be hit by the COVID-19 crisis, as flights from China were halted around the time of Chinese New year, a time that has traditionally been prosperous for the business.
"About 95% of our trade fell away overnight – because the borders were closed to Chinese tourists," Director Todd Watts says.
"Shortly after, all international tourism ceased, and we were several months away from the Australian winter, so it was an extremely stressful time, thinking about all of the staff that we wanted to be able to provide ongoing support to, and the overheads which would continue to fall due, without any sales to buoy the business."
At the lowest point, Todd spent two weeks doing all of the cutting and gluing while his floor manager and one other seamstress were sewing. Daily orders had slumped to about 10 a day – down from as many as 100.
Lessons were learned.
"In small business, things can truly change overnight in the broadest pendulum swing imaginable – for the better or the worse," he says.
"We stayed true to our roots and continued our complete manufacturing process here in Australia, against the tide of most businesses moving their manufacturing operations offshore."
It was peak pandemic when an unexpected turnaround happened.
Most small businesses were in the midst of the storm, but sales were suddenly soaring for UGG Since 1974.
Todd puts it down to a simple Facebook post.
"We posted our story in the Facebook group "Australian Made Products" – which has over 1 million members who want to stay up-to-date with Australian made products," Todd says.
"The response was insane. Within a couple of hours of posting we had a flood of orders from across Australia. It really was a silver lining for our business."
Todd says that Facebook post resonated with so many, because it busted the myth that all UGG boots are made in Australia.
"In a nutshell, the word "UGG" is used as a generic word to describe a sheepskin boot, but there are hundreds of companies that make and sell UGG boots, of all different levels of quality, and the majority of which are not made here," he says.
"Many people were shocked to hear this. Some were outraged to have checked their sew-in label of their existing boots to find out they were made in China. It really got people looking for UGGs from our business."
But even with the groundswell of local support, UGG Since 1974 is preparing for its next challenge in a few months.
"Our business is very seasonal, so we're actually now battening down the hatches for a very few difficult period ahead," Todd says.
"Winter in Australia will come to an end and with no international tourism, we'll have to be crafting and daring to keep our business alive through the long summer.
"Realistically we can't see ourselves getting back on our feet for another two years.
"Personally it's been a testing year, but one still filled with optimism and a sense of fight to keep our business carrying on."
Australian made UGG boots can be ordered direct from the website www.uggsince1974.com.au