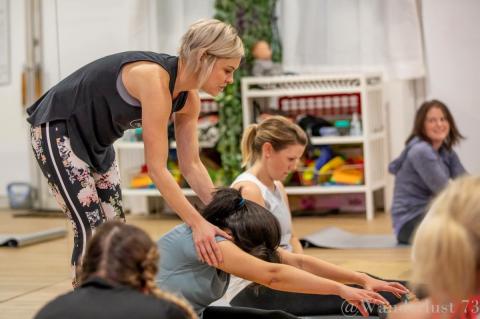 Alicia Cummins loves doing two things in life – exercising and talking to people.
Even though she had no aspirations to run her own business, in 2013 she decided to combine these loves and started a personal training business – Playground Training.
"The journey started when I was on maternity leave after the birth of my daughter. Time was nearing for me to return to my public service job and I knew it was time for a change," said Alicia.
"I wanted to continue to work closely with people, but also wanted a career where I was dealing directly with my clientele and providing a service that makes a personal difference.
"I love providing a space and a service where I can allow all people to find the type of training that works for them. Be it to increase fitness, strength, lose weight, rehab from an injury or just tap into some endorphins to help cope with the stressors of life."
Alicia has found a niche training postnatal women, which can sometimes be a delicate process.
"It is challenging as there are loads of precautions to take when training this audience, but I am confident my training and experience allows me to provide a great service," said Alicia.
Alicia runs a type of training called 'Kangatraining', which is a low impact exercise for postnatal women that allows them to exercise with their baby attached in a carrier.
"While Kangatraining originated in Germany, I was the first business to provide Kangatraining in Canberra. I chose this type of training for postnatal mums as it provides a fun and effective way for mums to return to exercise... safely! There is also the added bonus of the bub becoming part of the training," said Alicia.
Until recently, Alicia ran Playground Training out of a gym her husband built on the top floor of his plumbing business in Canberra. She has now moved her 60 clients to a stand-alone studio in a quiet Canberra suburb.
So what does the future look like for Playground Training?
"Hopefully more of the same. Keep providing training sessions and keep my clients happy! I also want to concentrate on more marketing and pursuing more study," said Alicia.
If you want to stay fit and healthy, follow Alicia's top three tips.
1. Drink water. Loads of it.
2. Move. Every day. In any way. Run, walk, swim, crawl...
3. Prepare your food ahead of time. It's too easy to grab junk when you're busy and kids are screaming and the phone is ringing.