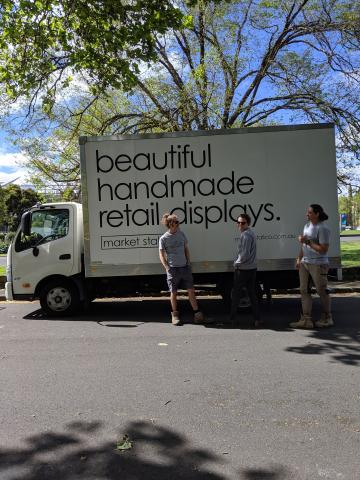 Up until a couple of months ago, market stall co was a successful business with a bright future ahead of it, after years spent building solid foundations in the retail and events industry.
The family-owned business specialising in custom market and pop-up retail fit outs had big plans of securing a larger space for its workshop and hiring additional staff.
But COVID-19 was the event they couldn't have planned for.
First came the cancellation of the Melbourne Grand Prix. Then just like that, everything stopped.
"It was like a switch was turned off," market stall co Director Laura Jager says. "All of our event bookings and potential orders were paused or refunded and revenue went backwards. Operating in the events and retail space suddenly didn't exist."
With a baby on the way, failure was not an option for this dynamic husband and wife team.
So in less than 60 hours they transformed the business into a home office furniture manufacturer.
 "It was a little crazy but our inbox was empty, the team was free and we were lucky enough to have four years' experience building in our own unique style to be able to translate it to other areas," Laura says. "We just thought – what do we have to lose?    
"Our team was incredible, staying back late to make it all happen with us."
As thousands of Australian workers transitioned to work-from-home during the pandemic, larger office supply stores were selling out of desks and other furniture.
Using their existing skill set and resources, market stall co started creating flat-pack desks, without the flat-pack look.
"The biggest challenge was having the mental strength to regroup, pivot and plan," Laura says. "It's exhausting having all your business plans taken away from you… We desperately wanted to make sure our business was able to exist when this was all over."
For now, business is steady and post-pandemic plans are underway.
"We've sold more desks than we expected and we are also using our time to improve the business so when events come back we'll be better than ever," Laura says. "We're confident in our future, our clients will return and we can adapt to whatever situation we might be put in and come out the other side."
market stall co dispatch in 4 business days. Purchase at https://www.marketstallco.com.au/