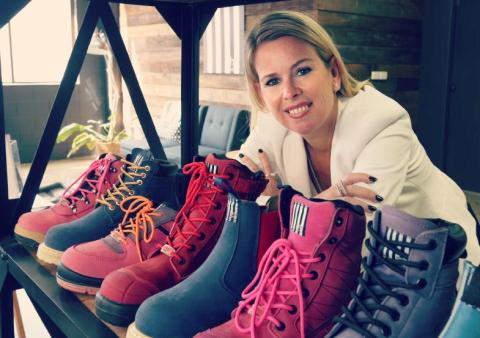 If you're a woman working in a trade, you might know that until recently there was a lack of choice in good quality safety footwear.
Stacey Head found this out the hard way after stepping on a nail while working as a project manager for renovations around Brisbane. So she decided to do something about it.
When she launched her business, she wear, in 2014, the options for women's safety footwear were very underwhelming.
"Boots were designed for men; very heavy and needless to say, extremely unfeminine," said Stacey.
"I believe the business has been successful as we design our footwear from scratch to fit women correctly, comfortably and safely. Also being a female-founded and run business, we know what our customers want, so we design exactly for their requirements and that resonates with our customer base."
Stacey started the business as a home-based start-up. She recalls many challenges – the biggest of which was entering an untapped market without any data or guarantee that the business would be a success.
She also faced challenges around finance, warehousing, understanding the complex regulations of Australian compliance standards, budgets, and the massive task of finding a manufacturer who would produce a quality safety product that was considered extremely left of centre.
"Brand awareness was also a huge challenge, but social media and having the female contestants on The Block wear the she wear brand certainly assisted with marketing," said Stacey.
The biggest lesson Stacey has learnt since launching her business is to have systems and procedures in place from the beginning. She initially kept all financial data in an Excel spreadsheet and when the business grew very quickly, she found it time consuming and stressful to convert all the data over to an online accounting package.
She also has this advice for other women thinking about starting a business.
"Do your due diligence; research, talk to your target market, check out your competitors, but mostly go with your gut! So many people will tell you your idea won't work and that you're wasting your time. If your idea feels right and the numbers stack up and have potential, stick to your convictions, work hard and persevere!" said Stacey.
Stacey has also been able to tap into the international market, largely due to she wear's good following on social media, which allows her access to a range of different markets. She will look to expand her business internationally with the help of government grants, such as the Export Market Development Grant.
In 2017, Stacey was delighted to win the 2017 Entrepreneur of the Year Award at the Australian Small Business Champion Awards.
"We all focus so much on the 'doing' and 'running' of the business, it is very easy to forget achievements and how far we've come both personally and professionally," said Stacey.
"Winning an award makes you sit back and reflect on how far you've come and gives you a little more confidence to keep going!"