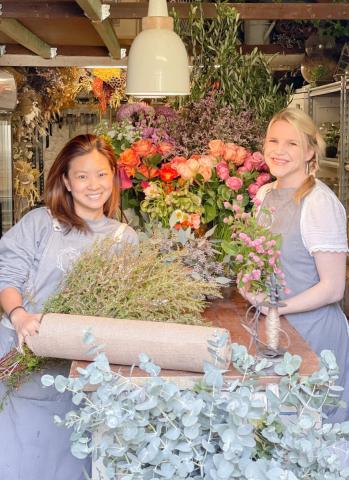 Twig and Vine had all but wilted a year ago.
Sydney was in lockdown and events were wiped from the calendar.
Business had dried up overnight for the Inner West florist, co-owned by Elaine Chew and Linda Jamieson.
"We really had no idea how we were going to survive," Elaine says.
"Every event booking we had was cancelled and every single corporate client contacted us to put their flower service on hold – this represented about 85% of our business at the time lockdown was announced."
Restrictions changed everything and Twig and Vine had to re-think their business model.
Consumer preferences also changed and many people took the downtime to appreciate their family and friends.
"COVID really highlighted the struggles of small businesses and there was a real sense of wanting to shop small and support local businesses," Elaine says.
"Luckily we had set up a little webstore on our website. Prior to COVID we would get a handful of orders through each week. It wasn't our focus, however in the following weeks, traffic to our webstore increased and we had more and more orders every day.
"At a time when people couldn't see their loved ones, flowers became a way you could send love and let special ones know you were thinking of them.
"I'll never forget one lady ringing me to tell me that she was so glad she saw our Facebook post and was able to send flowers to her grandma in a nursing home. She was in tears as she told me how grateful she was that she could at least be there in part through the flowers that she sent. I have never felt the power of flowers as much as I did during those lockdown months."
COVID brought many harsh lessons to small businesses – for Twig and Vine, it was their focus on business and event work.
Elaine and Linda quickly realised they needed to diversify, connect more with their local community customer base and improve their digital offering.
"Until COVID our business had mostly grown through word of mouth," Elaine says.
"We posted haphazardly on social media and since our work was mostly corporate in nature, we kept a mostly professional and restrained presence online. 
"Through COVID we realised the power social media had to connect us to our customers, and also the power of being more personal and engaging when posting. 
"We are learning to be more open and relaxed on social media and this has helped us reach far more people than we could have imagined!
"Community groups on Facebook have also played a really big part in helping us grow our presence online.
 "Our web guy also helped to refocus our SEO to help us target personal orders instead of corporate work."
Elaine and Linda say they've come out of the pandemic stronger than ever and now they are looking at improving their business so that it can withstand potential future shocks.
"We are grateful that we managed to navigate our way through the worst of COVID," Elaine says.
"Personal orders and gifts now make up the majority of our business.
"We are also in the final stages of building a new website which will be built for e-commerce, and we can't wait to bring our customers a faster, sleeker way to shop. 
"What is exciting for us is in the last few months we have started to get many of our corporate clients back on board and events are also returning.
"We hope to have even more clients back as things increasingly go back to normal, and we hope that in a few months we will see ourselves in a position even better than we were pre-COVID."
Visit Twig and Vine here www.twigandvine.com.au