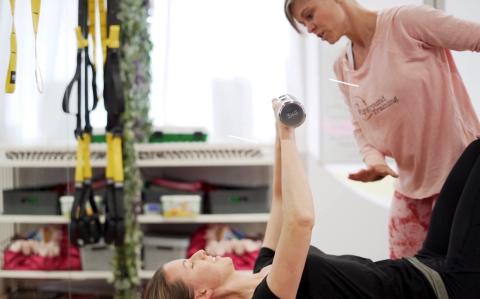 Ask any small business owner and they'll tell you it's a daily grind, even in the good times.
For personal trainer Alicia Cummins it's been blood, sweat and – thanks to a global pandemic - tears.
In no time at all, the COVID-19 crisis turned Alicia's business, Playground Training, on its head.
Prior to COVID, all of Alicia's training sessions were run out of her studio in Canberra, affectionately known as 'The Playground'. When she realised she could no longer deliver her sessions the traditional way, panic set in.
"I was devastated. I thought that if I didn't have the studio then it wouldn't provide the same feel or escape for my clients," Alicia says.
Alicia started investigating other ways she could deliver her training sessions while still catering to the needs of her clients.
Initially Alicia planned to offer a combination of outdoor and virtual sessions, but once the strict social distancing measures were put in place, she was forced to move all of her face-to-face sessions to virtual sessions run out of her home garage.
Alicia has managed to keep 50 of the 85 clients she had prior to COVID and delivers 17 virtual sessions per week. She also provides weekly at home workouts for her clients to do in their own time and runs a weekly session for her clients' kids, which has been a huge hit and a welcome distraction!
"The move to virtual sessions has been really successful. There were always going to be clients who couldn't adapt to the new virtual world, but for my clients that have it seems to be a really rewarding experience," Alicia says.
"I am really enjoying delivering the sessions virtually in real time. People are training more as they have more time and can log on more readily than attending in person.
"While virtual training is different, it does still foster a sense of community and escapism from the daily iso grind.
"I have also found that engaging more on social media during the COVID period has led to an increased sense of community within my client base."
While pivoting her business has been a positive experience for Alicia, it has also been a steep learning curve.
"My biggest learnings have come from moving my business into a completely virtual setting - navigating new apps and platforms and identifying what extra technology I required to make the changes seamless while delivering the best possible sessions," Alicia says.
Virtual training does come with its challenges and technical glitches, but Alicia is very grateful she is still able to work and she's excited about the future.
"My future goal for the business is to maintain serving my clients that have transitioned so readily to the virtual world and try and re-engage those who weren't able to," Alicia says.
"The way I deliver my services will change forever. I will now introduce more variation to delivery channels - virtual in real time, online/pre-recorded and in person. It's going to be a really exciting time rebuilding in the post-COVID world."
Check out the Playground Training Facebook page