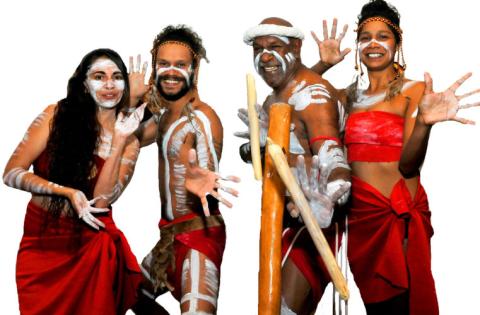 Walangari Karntawarra is a man of many talents. A musician, an internationally exhibited artist, cultural teacher, public speaker and performer – just to name a few.
Walangari is an Aboriginal elder of the Arrernte, Luritja, Warlpiri, Yankunytjatjara, Pintubi, Anmatjerre and Alyawarre peoples of the Central and Western Desert, but now lives and works in Sydney.
For over 20 years, Walangari has led Diramu Aboriginal Dance and Didgeridoo – a very popular traditional indigenous Australian Aboriginal performance and education troupe. He also shares his culture with locals and overseas visitors and students through his successful Bondi Aboriginal Walking Tours.
Walangari and his troupe showcase their indigenous culture through dance performances, Australian Aboriginal Dreamtime storytelling, didgeridoo music and songs.
"What I love most about my work is seeing the joy, wonder and amazement on people's faces when they begin to experience first nations' cultures at their best," said Walangari.
"It is important for all people, no matter their background, to learn about Australia's first peoples and to feel and experience Aboriginal culture; where it becomes a part of their core and inner being. This will then, hopefully, open their eyes to the beauty and complex nature of Aboriginal spirituality and connectedness.
"My work also involves breaking down stereotypes and to heal those old psychological wounds that still manifest within the Australian psyche. My role in all of this is to facilitate this process and to do it in such a way that is both meaningful to my clients and respectful to my people."
While Walangari didn't set out to become a role model through his work, he is happy to accept the title.
"If I can inspire someone to achieve their goals in life then I am happy to be that person. I believe education, in its many forms, is the key that unlocks all potential," said Walangari.
In addition to Walangari's many talents, he also has two university degrees and has held many executive positions and directorships of various Aboriginal Councils. He chaired the Central Australian Aboriginal Media Association, the first Aboriginal owned radio station and was a director of the first Aboriginal television station, Imparja.
Throughout his long and diverse career there has always been (and continues to be) one constant – his passion in ensuring the voice of Aboriginal Australia is heard.
"My job is to support all communities. My purpose is to empower my indigenous peoples to showcase themselves, to believe in themselves and to dance and sing for their country and their people," said Walangari.
"We work with the guiding principle that everybody must benefit. I only hope I can continue to do what I'm doing for a long time yet."
Visit Walangari's website www.walangari.com.au to learn more about him, his culture and his art.