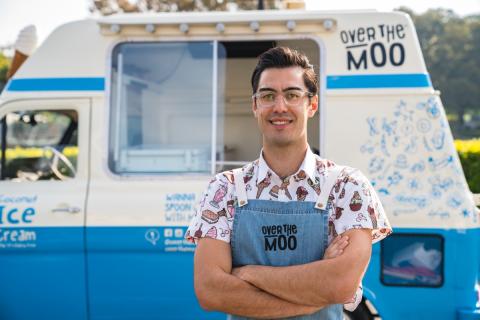 When Alex Houseman found himself constantly disappointed by the lacklustre dairy-free ice cream options available, he decided to team up with a seasoned ice cream maker and make his own.
"I spent a lot of time developing the flavour. This included running lots of surveys and trialling flavours with family and friends. I got advice from a number of independent supermarket store managers. This kind of information gave me enough confidence to finally take the leap!" said Alex.
The leap happened in 2015, when Alex started his business, Over the Moo.
As a lactose intolerant guy, Alex is committed to delivering dairy-free ice cream with the same smooth, creamy texture as regular ice cream.
While Over the Moo ice cream is now available in 2200 stores nationally, including Woolworths, Coles and independent supermarkets, Alex is still working on expanding into the international market.
"Our first foray into exports constitutes a couple of tubs sitting in the Australian Embassy shop in Jakarta," said Alex.
"We are absolutely looking further afield. The supermarket business in Australia is commercially quite tough so expanding our export revenue will be an important step for us to tackle in terms of diversifying the business."
Alex comes from an entrepreneurial family so he had a lot of role models from an early age. His first business idea at 13 was making art deco designed bird houses using floor lino. He only sold two to supportive friends and family members, but it marked the beginning of his successful entrepreneurial journey.
Over the Moo has been so successful it won the 2017 Australian Telstra New Business Award.
"We were absolutely gobsmacked when they said our name. There were some wonderful and highly accomplished other businesses in our category and so we felt very fortunate and flattered to be chosen," said Alex.
"The award has really helped build the confidence of the team and improve the awareness of our brand among shoppers."
While running his business, Alex has learnt three important lessons.
"Firstly, as a small business a cash flow is one of the toughest factors to manage and on a few occasions the business almost became a bit unstuck, so there have been big learnings for me regarding managing cash," said Alex.
"Second big learning is to keep things simple. As the business grows, if processes are convoluted or unnecessarily complex, it's easy for the weight of work to overwhelm you very quickly. By keeping the business lean and the team's goals really simple, it allows us to keep control over workflow and the business.
"My final major learning has been to lay down strong values in the business and in the team. With strong business values communicated clearly through the business and to our contractors, it has been easier to build strong relationships."
Alex attributes the love of running his business to his staff and the niche market he has found.
"I have a wonderful team who make working really fun and enriching. We all keep each other motivated," said Alex.
"On the other hand, the actual product itself creates a lot of joy among our customers as it fulfils a dietary requirement that is not well catered for, so in this way it is also really fulfilling and enriching when we get fan mail and positive reviews."