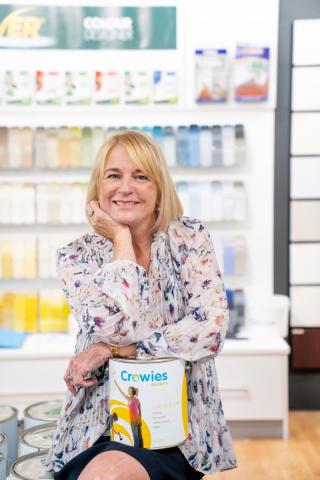 Daphne Crowhurst knows paint. She also knows how to transform a stagnant family-run business into a successful franchise.
Crowies Paints now has 19 stores across Australia and if you talk to Daphne, her 'sky-is-the-limit' philosophy and appreciation of her staff appear to be the keys to this success.
"In order to transform the business, I had a very broad vision of where the business sat in the industry and what advantages it had over its competitors. These two knowledge bases gave me the insight to make a long term plan," said Daphne.
"I explained the long term and short term goals to my staff and they were very supportive. I was very open and honest with them. I sought their advice on areas where they had a skill-set or the decision affected them. This helped us take the steps necessary to grow the business and secure their jobs and the future of the business."
While Daphne's spends most of her time working in the Adelaide head office, she is able to keep in touch with what's happening on the ground as her office is located above one of the Crowies Paints stores. Daphne works on the ground when setting up new stores and is happy to help out in any of the stores during busy periods.
Often it can be hard for small businesses to compete with large competitors so Daphne understands the importance of finding a point of difference.
"Our business is smaller and therefore faster at problem solving than our larger competitors. We are much more proactive because my staff are all involved in the business. I care about them, they care about me and we all care about the business," said Daphne.
"We readily introduce new products to satisfy customer demands, therefore keeping a broad range of products and providing a large range of choices for customers to solve their painting problems. We are always hungry for happy customers."
The growth of Crowies Paints has seen Daphne experience some problems along the way.
"One of the problems is managing cash flow – growing a business is very expensive. Getting the staff that match your business culture can also be difficult. In the first few years it was difficult to get the suppliers and customers to take me seriously, as I had never been in this role before and I was a woman in a male dominated industry," said Daphne.
Daphne was recently named Telstra's Business Woman of the Year in South Australia. Unsurprisingly, her staff nominated her for the award.
"I truly believe that my staff are an integral part of my business. Without their skill-set, my business would not be so successful. For me it was recognition of a job well done," said Daphne.
"It has been very hard and quite lonely at times, as sometimes you are the only one that can make a decision, which will have consequences down the line. The best part for me was that my staff nominated me for this award which was very rewarding for me," said Daphne.
Daphne has people knocking on her door for a job and rarely loses a staff member, which is testament to the workplace culture she has created.
"The difference is I don't sweat the small stuff. I give the staff enough freedom to 'own their job'. I encourage staff to make decisions and be accountable for them, to take chances and learn by the outcomes, to have fun at work, to play games with each other – to be politically incorrect with respect is ok," said Daphne.
"All of this creates an environment where the staff feel cared for but responsible. I lead from the front, always. I am very careful not to ask my staff to do anything that I haven't or wouldn't do."
For other business owners wanting to enter the franchise space, Daphne has this advice.
"Know the business, in every form at every level. Retailing one item can be very different to retailing another. You may think they are the same but this may not be the case. Know it – inside and out."