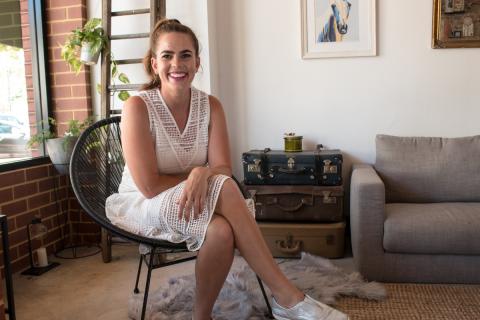 Kym Clark was working at a coal mine in Queensland a few years ago when she noticed her heavily pregnant manager wearing an open high visibility shirt over a singlet.
"It made me stop and take notice. Unlike women in other industries who can order maternity wear, the mining industry didn't have a single option like this. I wanted to change this. I had to change this!" said Kym.
After exploring high visibility workwear options, Kym was left disappointed with what she found.
While Kym knew nothing about making clothes, she knew she could make a positive change for women in the industry by introducing a new maternity high visibility workwear range.
So in 2013, She's Empowered was born.
It wasn't always smooth sailing for Kym in the start-up phase.
"Right before my first shipment of stock, I experienced problems with my overseas manufacturer. I had to travel to China and look for new options, and basically start the entire process again," said Kym.
"About 18 months after launching the world's first high visibility maternity shirt, I found a competitor had completely copied my design and was selling them in the market. It was eye opener, but it made me realise how passionate I am about this business and the impact it is having on women in the industry, and I pushed on."
As the sole decision maker in her business, there are fewer hoops to jump through when companies need something custom made, and as a woman in mining, she can empathise with her customers' particular requirements and deliver exceptional customer service.
"If women need extra reflective tape for their job, I can sew this on for them. If they need shorts, I've done that too when they haven't been a stocked item. I do what I can with the limited resources I have. And I think this is what sets me apart," said Kym.
While Kym goes above and beyond for her customers when she can, she finds that lack of finance is sometimes a barrier.
"As a small business, I am still limited by my financial resources, making it hard to accommodate everyone, even though I'd like to," said Kym.
"I get asked to extend my sizing, introduce a new colour, and bring in new products, but I need to grow at a pace I am comfortable with. Many people don't realise there are minimum order quantities to place with manufacturers, which can be tens of thousands of dollars up front, that I need to know I can make back.
"I always do what I can within my means to tailor a solution to my customers, but when it's not possible, it's heartbreaking."
Kym is a strong advocate for achieving gender equality in the mining industry. Through She's Empowered, Kym gives mining companies the opportunity to buy and supply women's workwear to their staff. This is great for their recruitment messaging and ongoing support of women in mining.
She is also providing this opportunity through word of mouth at networking events and via media channels.
Kym recently launched a website called High Visibility, which aims to shine a light on work and home life to help individuals grow professionally and personally through shared stories of challenge and resilience. High Visibility recognises that inclusion and diversity requires collaboration from men and women in the industry and across all levels of decision making.
So what does the future look like for Kym and her businesses?
"The range continues to grow which excites me. From one maternity shirt to having a range of shirts, cargos and now a 4-in-1 jacket, the brand is solving many more problems in the industry for women than just maternity wear. New and exciting developments are also around the corner, but right now, I'm focussed on establishing High Visibility and making this the go-to industry news and resource hub for men and women," said Kym.
"To other women in similar situations, I can only urge you to forget your competition and focus on you. Don't just know your strengths and opportunities – you have to believe in them. And don't be afraid to pick up the phone to anyone. The worst case scenario is they say no to you, then you just reassess and try someone else. Life is all about timing - a no now doesn't mean a no forever. Keep persevering."