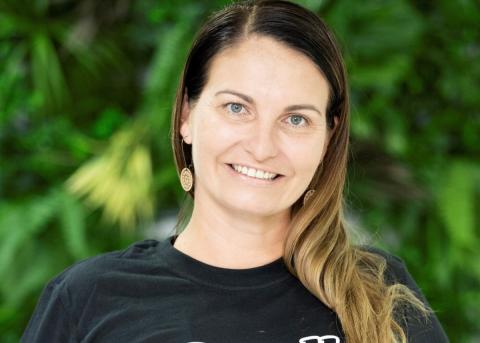 Caring for country is the heart and soul of Kakadu Tinytots.
The indigenous company creates baby clothing and authentic aboriginal products, using only organic and sustainable materials.
Owner Kylie-Lee Bradford says her mum – a traditional owner of Kakadu – has been her biggest inspiration.
"My culture and my mother's legacy is reflected in every design we hand paint and every product we develop," Kylie says.
"We are extremely passionate about looking after country.
"Sadly I lost my mother a year ago and this was a huge challenge for me and my team.
"It was extremely hard to work without her as she was such a big part of everything we do and why we do it. We know she walks beside us and guides us in all that we do."
Growing up in the small Aboriginal community of Patonga, Kylie noticed there were very few indigenous female business owners and wanted to change that.
Since launching six years ago, Kakadu Tinytots has been growing steadily and we even featured on the popular television show Shark Tank Australia.
These days the business has three permanent staff as well as a casual and freelance roster.
"I wanted to be an inspiration to the younger generation of women including my three daughters," Kylie says.
But like many retailers this year, it hasn't all been smooth sailing.
"I woke up one morning in February and realised we lost 80% of our wholesale business overnight which included stockists such as airports, hotels and cultural tourist destinations," Kylie says.
"We had to very quickly shift our e-commerce strategy and focus on our new target audience.
"Thankfully we are very lucky to have a loyal customer following and we really focused on our customer base, who love our service and the work we do for our communities."
Part of that community work will form Kylie's next big goal.
"The Kakadu team are building "Eco Gardens" in our Aboriginal communities – starting in Kakadu," Kylie says.
"Our goal is to have Eco Gardens in every indigenous community in Australia where there is fresh seasonal fruit and vegetables year-round for the families that live there. It's really expensive to buy fresh produce in remote communities and we want the kids to have access to nutritional foods."
Shop for Kakadu Tinytots products at www.kakadutinytots.com.au