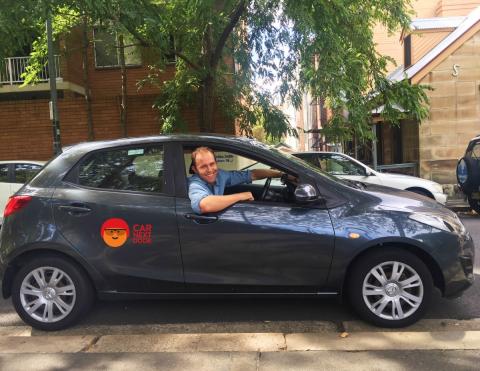 One day Will Davies walked a long way, past hundreds of parked cars, to pick up a car from a car rental company.
He had always wanted to start a business that helped reduce greenhouse gas emissions and he started wondering why we didn't just share the cars that were already on the street.
He looked into it and found there were a couple of companies in the US and Europe that were doing peer-to-peer car sharing and decided to introduce it in Australia.
Peer-to-peer car sharing allows people to either borrow a car or rent out their car when it's not in use.
In 2013 – with a tiny budget – Will and co-founder Dave Trumbull piloted their neighbour-to-neighbour car sharing concept, called Car Next Door, in a few suburbs in Sydney.
"Providing a simple, secure way for people to rent out their car when they're not using it means the car owner earns money to offset their car's costs, and people who live nearby can save money by borrowing a car when they need to drive, rather than buying one," said Will.
"Any small business owner would know the challenges of launching a new business with hardly any money. You work around the clock, you don't draw a salary and you are faced with challenges every day to keep everything moving forward.
"We worked out early on that our initial technology, which was wired into the cars to give swipe card access, was not going to work and we needed to find another way of giving access to borrowers.
"The concept of sharing privately-owned cars has been around for a while, but the problem has always been how to let the borrowers get the keys without the car owner having to meet them.
"We came up with a unique method to solve this problem - a combination of an electronic lockbox with a plug-in GPS tracker and an online booking and payment platform. This lets us turn almost any car into a share car at low cost quickly.
"Our instant booking technology means car owners are not required to approve each booking request. This leads to high booking numbers and revenue per vehicle."
The ultimate goal for Car Next Door is for a share car to be within 5 minutes' walk of anyone in Australia's urban centres.
"This will dramatically reduce the waste of space, resources and money caused by millions of cars sitting around idle for 96% of the time. We would also like to expand our neighbour to neighbour car sharing model internationally," said Will.
"Personal transport is on the brink of huge disruption and change, with the old model of car ownership giving way to people accessing transport as a service.
"Driverless cars will completely revolutionise the way people think about car use and ownership. We see ourselves as part of this transition. When driverless cars become widespread, we will have a large user base of people who are already embracing mobility as a service and poised to take up these new technologies, so we think this will open up all kinds of opportunities for our platform."
The success of Car Next Door was recognised recently when the business was named as a finalist at the 2018 MyBusiness Awards and appeared at number 5 in the SmartCompany Smart50 Awards.
"With most of the big sharing platforms owned and managed overseas, we're really proud to have built an Australian business that is thriving in this growing sector," said Will.
"It's exciting to be recognised as a forward-thinking, innovative Australian company with a strong track record and growth potential.
"Our advice to other businesses starting out, especially if you're trying something new, is to start small, test your idea thoroughly and get a solid product before you focus on growth."