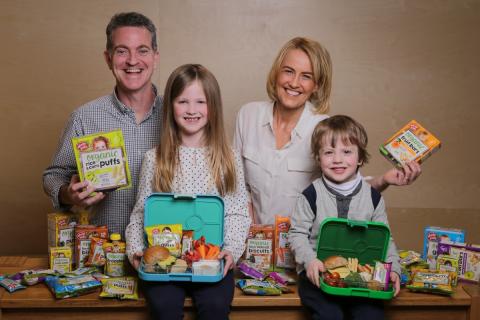 When Monica Meldrum returned home after delivering an aid program to children living in poverty in a remote village in Indonesia, she vowed to use her skills and influence to make a positive difference to children's health.
"On returning to Australia I could see that finding healthy snacks for kids was one of the most frustrating problems parents faced, especially when navigating a maze of misleading food labelling, hidden ingredients, dubious health claims and junk food marketing to children," said Monica.
So in 2005, Monica and her husband James used the deposit they had saved to buy a house to establish Whole Kids – the first range of certified organic snacks for children in Australia.
Monica had a vision of creating a profitable business that not only contributed directly to kids' health, but took a stance on the unhealthy food issues. She also wanted to use the proceeds from the business to fund kids' health and environmental projects to create meaningful social change.
This vision has helped Whole Kids become the first food company in Australia to certify as a 'B Corporation' – an international certification recognising companies using business to effect positive social and environmental change.
Whole Kids is recognised for products that are additive-free, allergen-friendly, free of genetically modified organisms, and contain no artificial colours, flavours or preservatives.
It is on track to provide 50 million healthier choices to mums and dads by 2020. Whole Kids also runs consumer advocacy campaigns to influence change in the food industry and helps fund delivery of 500,000 nourishing meals to school children in developing countries.  
In establishing the business, Monica and James worked together for the first six months – which can be difficult at times for a family business!
"The need to formally structure how we worked together was highlighted when we hired our first employee. We went from being just the two of us where we would have very open discussions to holding a weekly management meeting to have these conversations and discuss our work goals," said Monica.
Monica and James found their skill sets complemented each other; they quickly and naturally fell into their roles. Monica dealt with the daily operations, logistics and sales side of the business and James covered the financial, legal and overall business strategy.
"There are lots of good things that come from working together. We have lunch together most days, we have a deep understanding of the stress levels associated with our jobs, and we collaborate really well as a sounding board for issues or ideas," said Monica.
"In the early days we would work non-stop and often take work home. Once we had kids, we realised this needed to change and we had to separate work and family time. We now have a 'no screens at home' rule, which means no work emails and no phones to ensure we are present during the precious time we have with our kids."
Monica and James work hard to have their voices heard over the big brands in the industry that have huge advertising budgets.
A taste of the power of the industry came not long after Monica and James started their business. Following an article published by a national newspaper that cited a link between respiratory issues in children and the use of sulphur dioxide in dried fruits, Monica and James were threatened with legal action from one of Australia's largest multinationals.
"Our first reaction was one of great fear, but we realised at that moment that this company felt we (at the time, a tiny business with just Monica and James still operating from a spare room in their rented house!) were such a competitive threat and that Whole Kids really could become an agent for change," said Monica.
This was confirmed when they received an invitation from Qantas to present their products following complaints about the airline's sugar-laden alternatives being served to children.
Knowing they were up against a large confectionery brand and that they couldn't compete on price, Monica and James talked to Qantas about what the opportunity meant, not only for their business, but for Qantas.
"That meeting was a game changer. Not only did Qantas use our products on all domestic and international flights, but they featured Whole Kids as part of inflight television, supported us through free editorial and interviewed us on business radio. We had won one for the good guys!" said Monica.
"My advice for new businesses is to back yourself and your product. Stand by the value of what you are offering and trust your gut instinct and go with it; you will always make the right decision this way."
2018 has been an extremely successful year for Monica and her business. Not only was Monica named the Australian Small Business Champion Entrepreneur, Whole Kids was also named in the Westpac Top 20 Businesses of Tomorrow.
"This is a huge honour and a fantastic opportunity for our business and for the future of Whole Kids. As a small business operating in an industry dominated by global competitors, we are so excited to be part of the Westpac program which provides us immediate access to leading-edge thinking, support and professional advice, all of which support our mission to grow Whole Kids into a leading Australian food business on a global stage," said Monica.
As a small business that operates without the marketing budgets of the big food brands, it's really important to Monica that Australian customers know there are healthier, locally-owned and socially responsible alternatives out there.
"We hope to continue to grow the Australian market and awareness of Whole Kids, continue to expand our footprint into Asia and support programs to improve social equity for children across the world," said Monica.  
"When it comes down to it, at the heart of Whole Kids is standing up for what we believe in and using our influence wherever we can to create positive change for the future. We believe in healthy kids and a healthy world, and that the actions we take today can make a significant difference to the future of our children.
"I think the key to the success of Whole Kids has been the clarity of vision we have had for our brand right from the start. We know what we want our business to achieve, the type of business we want to be and the type of people we want to work with.
"By not straying from our purpose and saying no to opportunities that are not a good fit with our brand and our purpose, we have maintained a business that is different and is recognised for being more than just a producer of product. I do feel that we are still very much on our journey and we will keep pushing to reach new levels of success in our mission to create a happier, healthier world for kids."