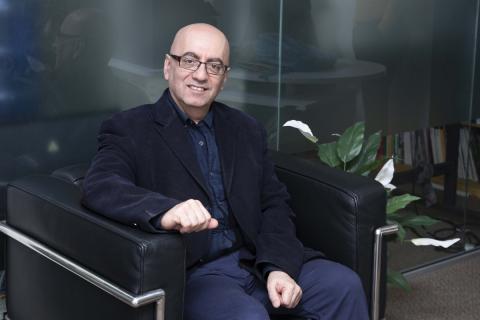 As a teenager Gus Fares would spend hours drawing the many buildings he loved before they were destroyed by bombings.
For Gus, growing up in war-torn Lebanon in the 70s and 80s, there was no choice. Even something as simple as walking to school meant you could possibly be killed by a stray bullet, or bomb.
"I was 12 when the war started, so in a way it was a good thing, because being so young you became quite resilient fairly quickly," said Gus.
Looking back, Gus admits "it was a shocking time, but you have to deal with it, and being so young when it started you just got used to it. It's like you haven't really known anything else.
"You wake up in the morning and say 'oh, more bombings so no school today' or if it had been a quiet night you would go to school."
The reality for Gus was simply that "war was a fact of life and you adjust. Obviously you avoid the troublesome areas with the most fighting and the worst people. So it's just an adjustment."
Even with his best efforts to adjust and survive, Gus was eventually directly affected, recounting that "you can't plan your life if you live in a war zone: you live day-by-day and sometimes your hopes are crushed.
"In 1989 I had just opened my first office after graduating as an architect. I was only in the office for a month when it was destroyed by a bomb. The entire building was burnt down.
"Luckily it happened at night when I wasn't in the office, but I lived just two kilometres away and heard the blast. I was only renting, so that was a blessing, but it took me a full year to get back on my feet."
It was in those early war-ravaged years that Gus developed a passion for drawing: in particular drawing buildings. Maybe because so many buildings were being destroyed, he felt the need to record them before the bombs hit. He realised fairly early that he admired the architecture in his city.
"I was about 15 or 16 when I started to understand what architecture was, and I became quite passionate about drawing buildings. I was drawing all the time. Even today I love sitting in front of a building scribbling, adding trees and people, getting a feel for the building and its place in the landscape. It's more than a business for me."
After graduating and working for a few years in Lebanon, Gus decided it was time to look for somewhere else to live and there were several options at the time.
"America was too big and too chaotic; Canada was too cold; Australia was just right and it was a long way from everything that was happening in my country."
Australia was looking for skilled migrants at the time and "as I was an architect, I could speak English and I was under 30, I ticked all the boxes. I got my visa within three months."
He wasn't able to set up his own business straight away as, despite his qualifications, Gus had to work for two years for an architectural firm in Australia and complete some additional study. It was a price he was quite willing to pay.
"After two years of receiving a regular income and working for someone else, I went out on my own. It was tough when the money wasn't so regular, so one of the first things I did was build my network."
Gus became more involved with people, "injecting myself into the community. Gradually people started to know my name, to appreciate my work and the business began to grow.
"In fact, looking back on my career it was probably one of the best decisions I made. Understanding the value of networking has been a crucial part of the success of my business."
Gus has never advertised his services. "I don't believe in it, especially not in this business. It's all about word of mouth."
It's a challenging business though, because everyone has an opinion about what is good and bad when looking at buildings.
"Architecture is about designing a building that is functional and aesthetic. It can't be just one or the other, it has to be a combination.
"It's the most important aspect of my job as an architect: to get that balance between functionality and looks. For me, the mark of a successful architect is one who can do both with a good balance."
Patience, passion and focus are three elements Gus believes are the keys to his success.
Patience to persist even in the tough times, a passion to keep the joy alive and a focus so as not to lose sight of where you're going.
In retrospect, Gus admits "I never put a timeframe on my success. I made a decision to start my own business so that's what I was going to do. There was never any thought of quitting and going back to work for someone else - I was going to keep doing this until I achieved my goal."
In his opinion, "too many people quit after a few hurdles. Be patient, keep working towards your goal and don't stop until you reach it.
As is the case for many successful business owners, "a love for what you are doing is crucial. If you don't like what you're doing, you'll never succeed."
Excerpts from 50 Unsung Business Heroes, Series Two