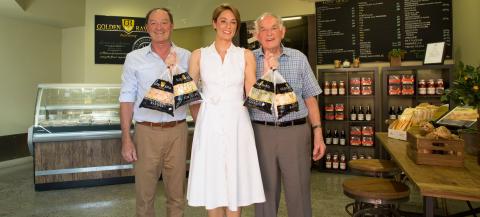 It all started with four brothers, a love affair with fresh and authentic pasta, and a determination to succeed.
That was over 55 years ago.
Today, Golden Ravioli, a wholesale and retail business specialising in ready-to-serve pasta, continues to flourish.
Danny Lenzarini has been at the helm of the family business for over 25 years.
"I am most proud of the reputation of both our family and business names; 55 years on and we still provide a unique service, staying true to our cultural heritage which originated in Lucca, Tuscany," said Danny.
"The key to our success is the consistency of the quality of our fresh pasta collection."
Danny learnt everything he knows about making pasta from his father Florindo.
Florindo and his brothers Carlo, Narciso and Stefano worked as peasant farmers in a province of Lucca, where they developed an appreciation for quality produce. They worked hard for little profit and moved to Perth, Western Australia in the 1950s with next to nothing in their pockets.
Florindo eventually became bored with his fruit-picking job and even though he had no formal training or experience - he applied for an assistant chef position at a local Perth restaurant. In 1958, after working in the role for three years, Florindo decided he wanted to run his own restaurant and bought the Romany Café - which he ran with his three brothers.
Florindo, Carlo and Narciso could be found in the kitchen preparing and plating each dish, while Stefano served the patrons.
All pasta at the restaurant was made by hand. In those days, there was no kitchen aids to mix the dough or to roll the pasta. Florindo's wife Maria and Narciso's wife Floria would make the pasta sheets and hand cut the ravioli.  
Florindo recognised the increasing work demand and imported their first machines to Perth, and in 1964, Golden Ravioli was born.
The business initially operated out of the newly refurbished garage of Florindo and Maria's home. It wasn't long before the Perth community came knocking.
The brothers began selling ravioli direct to the public. They worked around the clock, even working nights to fill orders. They were still not able to keep up with the increasing demand and it wasn't long before it was time to invest in bigger machines and more of them.
Golden Ravioli continued to grow, operating from the back of the Romany Restaurant until the restaurant was sold in 1988. Golden Ravioli then moved into its own retail store and factory premise.
While the business has grown and matured since the early days, today their lasagne and spinach and ricotta cannelloni are still crafted by hand. Despite the success of the family business, it has not come without its challenges.
"Working with family does have its difficulties. I think it's essential to find what helps you unwind and relax to help manage workplace stress," said Danny.
"The absence of formalised practices can hinder the transference of knowledge at times. There has also been a lack of strategic direction; we have worked too long 'in' the business instead of 'on' it."
Danny values the daily interactions with customers and the sharing of stories from the early days.
"The best part about being a family business is the nurturing of the relationships with our customers and the level of service we afford them. It is always special when our customers share with us fond memories of their own childhood and loved ones," said Danny.
Today there are three generations of Lenzarinis contributing to the daily operations of the business, including Danny's daughter Renée who is the Marketing and Customer Relations Manager.
Danny is looking forward to future growth of the business and maintaining its success.
"I am inspired by pride to continue the legacy of my father, mother and extended family. We are beyond excited to be releasing the next chapter of our story very soon."