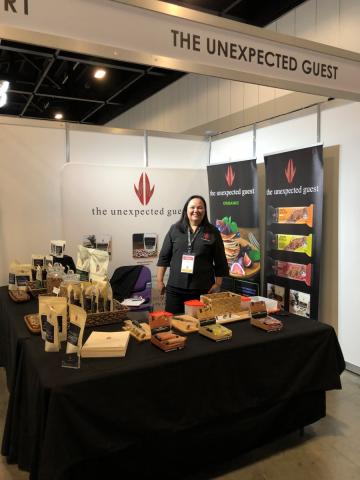 Breakfast is the most important meal of the day – especially if you're in the muesli business.
With so many treasured childhood memories of family and friends popping in for a cuppa and a meal, it seemed natural for Jenny Khan to be drawn to the business name 'The Unexpected Guest.'
Jenny bought The Unexpected Guest four years ago and set up in south west Sydney. These days she employs two staff members and ships her products nation-wide.
Jenny's indigenous heritage is reflected in both the foods she makes and the way she goes about doing business.
"Our muesli incorporates Australian indigenous ingredients," Jenny says. "Our model of business has evolved into a business that introduces our culture through food and the addition of other Aboriginal businesses into our space is part of our culture."
Reciprocity is ingrained in indigenous culture and embraced by The Unexpected Guest.
"To share the space and support each other while continuing to create our own products is culture," Jenny says. 
"We ensure reciprocity is demonstrated as much as possible - this is culture and we do this by sharing knowledge, platforms and space with other First Nations businesses, as well as our supply chain which ensures community is supported- reciprocity in action."
Even before it came to fruition, the business had a logo reflecting it's indigenous heritage.
"Our logo tells my story, the Kangaroo paw with the flow of dots is the logo and was created in consultation with my cousin - artist Mark Kilpatrick - three years before we had a business," Jenny says.
"The name of our company is Wambool Dreaming Pty Ltd. The word Wambool is the Wiradjuri word for the Macquarie River and this is the river that I grew up on, fishing and swimming with family. The dots represent the WAMBOOL, my story."
Health and wellbeing goes to the heart of The Unexpected Guest's product offering.
"We use Australian Certified Organic products with no refined sugars," Jenny says.
"This was a big attraction as I had already made diet changes and introduced more wholefoods to our family life."
But even with business growing steadily, 2020 has been a year like no other and Jenny has had to work hard to keep The Unexpected Guest afloat in the midst of a global pandemic.
"We lost all the events we would normally participate in as a market stall," Jenny says.
"The hotels and cafes we supplied food service to closed or changed their businesses immediately. Stores reduced their buying due to the lack of normal foot traffic flowing into their stores."
Jenny had to re-think the way she did business.
"We really had to ramp-up our social media presence and learn how to generate sales through our website," Jenny says.
"We also had to consider different ways to create products from our current product lines, such as hampers, care packs, small gift packs and a subscription offering."
Given the enormous challenges that this year has presented, big dreams will have to wait for now.
"At this stage, we are focused on staying open and continuing to provide quality products with clean ingredients that promote health and wellbeing."
You can order brekky via The Unexpected Guest's website: https://theunexpectedguest.com/