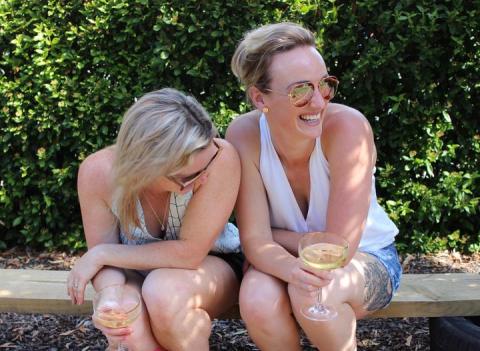 Who doesn't love a glass of wine or champagne with a delicious platter of cold meats, fresh fruit and cheese?
And the best bit? Delivered to your door.
Sarah Felstead and Verity Scarlett, also known as 'The Grazing Girls', brought this business idea to life in February this year.
The Lazy Grazer is Canberra's original online 'grazer' delivery service – stylish, custom boxes full of fresh produce or lollies and chocolate (or both!).
"It was an exciting idea that was fuelled by a few too many glasses of wine and a cheese platter we had whipped up for ourselves. We thought, 'hey, we're pretty good at this', which turned into 'let's start a business!'" said Verity.
Sarah and Verity set up the business at home and became registered and certified in April.
"We did a lot of research to see what was already available in the Canberra region and were pleased to discover it was an untapped market. We wanted our concept to be similar to an Interflora type service, but with amazing fresh food!" said Sarah.
When it comes to designing beautiful platters for their customers, Sarah and Verity weren't willing to give away any secrets.
"We can't tell you that, it's a secret! But we can tell you our grazers are designed around what is fresh and seasonal, as well as special requests from our clients. We both make our grazers in a different way, so when we 'graze' together, we come up with some great ideas!" said Verity.
"All of our produce is sourced locally and the majority of our fruit and vegetables are sourced from a local Halal market. When we have significant lead-time for a function, we find ourselves driving all over Canberra to get our favourite and trusted ingredients.
"It is important to us that we use produce that looks great AND tastes amazing, so we sample all the produce before it makes the cut onto our shopping list – it's a hazard of the job but someone has to do it!"
Sarah and Verity personally deliver every grazer box, and in the process meet some very special people.
"The reaction of someone receiving a grazer as an unexpected gift is really something. From those celebrating the birth of a new bubba, to those having a tough time and just needing to know someone cares; our grazers bring happiness to every one of our recipients - it's a truly special job," said Sarah.
The Lazy Grazer has already grown to include grazing tables and pop-up picnics, both whirlwind additions to the Grazing Girls' repertoire.
"We originally only anticipated making our grazers and thought if we got one or two orders a week, it would be a bit of pocket money for us. Never did we think we would extend to grazing tables and pop-up picnics! The business is so much more popular than we thought it would be and we couldn't be happier!" said Verity.
"There are no plans for further growth at this stage, although Sarah has been hinting at adding a pony to our picnic setup (it's not happening!)."
For Sarah and Verity, one of the best things about running their own business is being able to spend more time at home with their families, with the flexibility to work after hours when the kids are asleep.
And the other great thing about running The Lazy Grazer?
"Making people happy. Whether it's surprising someone at their home with a gourmet grazing box full of all their favourite things, or bringing people together around a grazing table; it's all about the happiness for us!"