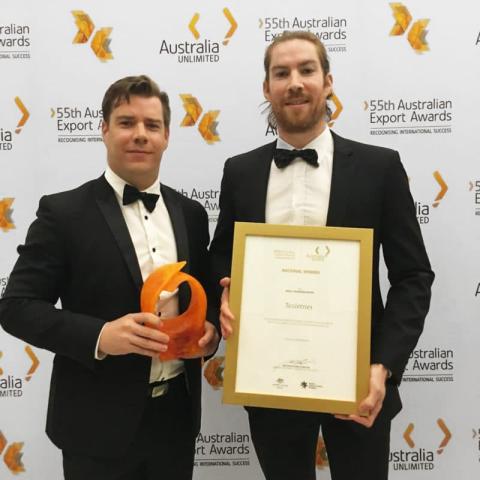 Saul and Josh Cockburn gave up their full time jobs in law and advertising, and sold the unit they shared together, to turn their unique business idea into a reality.
Their business, Tooletries, designs and manufactures bathroom accessories including mirrors, toothbrush and razor holders and wall organisers, which can be fixed to vertical surfaces using silicone technology.
Tooletries products don't need suction caps, screws or adhesives to be fixed to the wall. The silicone technology, which underwent rigorous testing procedures, is reusable and never loses its stick.
Saul and Josh undertook careful planning before launching a KickStarter funding campaign in 2014 to get their business off the ground.
"We researched many successful Kickstarter campaigns, hired a professional photographer and videographer to create content, hired a graphic designer to create the campaign page, reached out to as many people as we could to ask for their support, and we believed in the product," said Saul.
Tooletries products are stocked in over 1,500 retail stores and supermarkets across the US, and are available in Australia, Canada, Germany, Japan, New Zealand, Singapore, Taiwan and the UK.
"We believe in our products, our brand and our people. We want to continue growing in the US and Australia.  We are not looking any further than that at the moment," said Saul.
Saul loves being in control of his own destiny, and seeing strategies and hard work pay off. He says that being his own boss is definitely another perk of running his own business.
Tooletries is the perfect example of a business that has successfully cracked the export market, with 100% of sales revenue generated from exporting in 2016-17.
Saul has these top tips for exporters:
ensure your product has a point of difference
research the best channels to market your product
don't be afraid to enter the market you want to be in – it may seem daunting, but you are just dealing with people at the end of the day
treat every buyer the same – it does not matter if they are from a one store independent or an international corporation.
In recognition of this success, Tooletries won the Small Business Award at the 2017 Australian Export Awards.
"We are very proud to have won the Small Business Award, it was a great honour. We are also very proud to have done it from Brisbane. It shows that you don't have to be out of Sydney or Melbourne," said Saul.
"It has been fantastic for the business. It has brought a lot of positive attention to the brand which is always great when you are starting out. It gives you exposure that money cannot buy."
If you ever get thirsty in the shower, Saul and Josh recently launched the Shower Beer Holder, which is a huge success. Stay tuned for the Shower Wine Glass Holder launching soon.