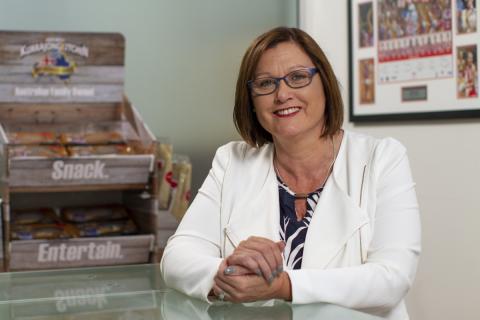 When is a biscuit not a biscuit? When it's lavosh!
If you ask Karen Lebsanft, the co-founder and CEO of Kurrajong Kitchen, "am I allowed to call it a biscuit?", you will get a very terse reply -  "no you are not!"
According to Karen, lavosh is a flat bread; technically it is bread made without yeast and historically goes back to Armenia, where every village had their special lavosh recipe.
Karen and her husband Ben perfected their particular technique in the kitchen of Clifford's restaurant in the New South Wales village of Kurrajong.
"We began serving lavosh to the customers of our restaurant. We would serve it up on cheese platters with dips and salsa and they loved it. In fact they loved it so much customers began asking if they could take some home."
In a short space of time Karen and Ben were making 30 packets a week to give to their restaurant customers. Fast forward 25 years and they're now making over 750,000 pieces of lavosh a day.
"And it's still made with the same love as it was back in the restaurant. I believe it's really important that as we've grown the quality has stayed the same, just as if I was standing there serving it in the restaurant."
You can now find Kurrajong Kitchen lavosh, along with other products in the range, on the shelves of all major supermarkets. This is an amazing success story, especially when you consider this was never their plan.
"We fell into manufacturing by accident; this wasn't a planned journey. Initially it was just about dipping your toe in the water, but it grew very quickly. From a business perspective we were behind the eight-ball from the outset; we were under-capitalised and times were really tough at the beginning.
"But we had started something and it was too late to pull back. The desire to succeed with something that we had created ourselves became very strong."
There's a degree of resilience which is essential for success in business and in hindsight Karen believes she inherited hers from her mother.
"We lost our dad when I was just 11 months old and it was only later in life we learnt he died from an overdose. But that left Mum with three children under three years old - an older sister and me and my twin sister, so Mum had a really tough time.
That resilience has been tested many times throughout Karen's adult life, from being a teenage bride to not having her first child until well into her 30s, chasing a career she never really had a passion for and dealing with a loved one's depression. Karen confesses there were many times when the pressure felt overbearing.
"When Ben and I finally had a child, I was 35 and it was in the early stages of Kurrajong Kitchen. So I was a new mum, trying to grow a new business and build a brand and I was determined not to fail.
"The drive to reach my own standards kept me going, but there were some really tough moments. I was working from home with a six-week old baby in my arms, keeping the business and the family afloat. Ben would come home from baking lavosh, see the baby wasn't settling and take her from me and go out into the garden and smell the roses.
"That was upsetting. I wanted to be the mum who takes her daughter into the garden and share those type of moments, but I never got that opportunity."
The aspect of the business Karen gets most satisfaction from is the impact it's had on those who work for them and the local community.
"Back in the days when we just had the restaurant I was actually training staff in hospitality. My main role in the restaurant was to make sure people felt comfortable and were enjoying their dining experience. So being able to pass on that experience, to teach it, was my passion.
"My dream has always been to give back, to empower people, to educate them and education doesn't have to come from a book. The best education comes from life experiences and I feel I have a lot to share."
When her husband Ben was diagnosed with depression, it was an extremely emotional time. Over a decade on, it became severely worse to the point where he had a serious breakdown. 
"We had built this great brand, had sacrificed so much along the way and now my world was crashing. I had to dig really deep - really, really deep and that's where my resilience kicked in. We could have lost everything.
"On the outside we were all smiles, but we managed to keep Ben's depression within a tight, close-knit group and part of my way of coping was to go to my local female gym, where I found an incredible support network.
"I needed a self-care strategy and that's when I decided to run in the New York Marathon. I'd never been a runner, but I needed a goal to focus on and training for that marathon gave me structure and got me through to come out the other end."
Karen did the marathon, although not within the time she had set herself - but that didn't matter. "I gave myself permission to say 'you don't have to run that time Karen, you just have to finish', which I did," she said.
"The decision to do it was for survival, although I'm not sure if it was survival for me or survival for Kurrajong Kitchen."
Ben came out the other side and returned to the business and is in much better health now. Karen never ran another marathon but feels she's now in a position to use her life experiences to empower others.
"About three-quarters of the way through the race I was feeling every step and I started to hit the wall - that wall all marathon runners talk about. Well, it's very much like business where you think you're going okay and then suddenly a wall presents itself and if you want to succeed you have to knock it down.
"You have to find a strategy, you have to be deliberate in deciding how you're going to get through it. How are you going to get just one foot in front of the other?
"So I was about eight kilometres from the finish and I was struggling. The drizzle had turned to rain and the crowds weren't huge anymore, so there was very little encouragement. I just remember being on this long stretch of road and thinking 'universe give me something! I need something, anything, just give me something'.
"It was about then I came up to this lady wearing a t-shirt with her name in big bold letters across her back and the crowd - what was left of it - was saying 'go Karen, go Karen', and I went 'yes! Thank you universe'. That girl's name was also Karen and her fan club became my fan club and gave me enough motivation to keep going when I badly needed it.
"And that's just how it is in business. If you stick in there long enough and are prepared to put just one foot in front of the other, life will deliver. Business will deliver, your life will deliver you what you need at the right time. You just have to be prepared to keep going."
Excerpts from 50 Unsung Business Heroes, Series Two