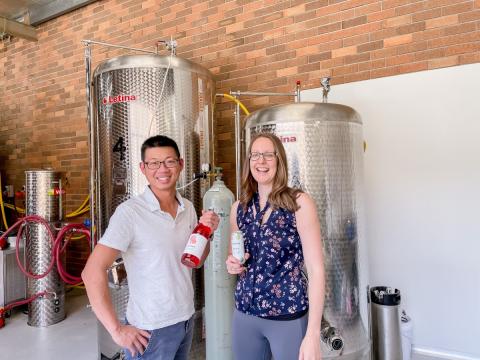 Altina Drinks has plenty to celebrate over the holiday period after surviving a long and difficult year, but it won't be the silly season.
The family-run business that produces alcohol-free cocktails is on a mission to normalise celebrations, minus the expectation to drink alcohol.
And it seems it's catching on…
Unlike many other small businesses that have struggled to stay afloat this year, Altina Drinks has actually grown significantly – all thanks to a clever digital marketing strategy.
Co-founder Alan Tse says a revamp of their website and the introduction of a subscription model, saw online sales tick up from 10% of their business to more than two-thirds of their business, in the space of a few months.
"When COVID hit in March 2020 and hospitality and events industry was effectively shut down overnight, it was definitely a dark day for us," Alan says.
"We thought we could use that time to invest in our digital presence, even though we knew we may not make it to the end of 2020.
"Through mentoring and grant money we received from the Federal Government's Digital Champions project, we created a more seamless user website experience.
"We also invested some money into paid social media ads. Now our online sales make up 70% of our business."
As the world around them shut down in April, Alan and his partner Christina made the choice not to go into hibernation.
Instead they created Australia's first Zero Proof Festival in a bid to shake up the Australian drinking culture.
"We brought together sober influencers, including organisations such as Sober in the Country and Hello Sunday Morning to normalise alcohol-free drinking though a mix of online and in person events," Alan says.
"By July, our online content reached over half a million Aussies interested in changing the way they drink."
With a six-month-old baby to take care of, both Alan and Christina admit their biggest challenge was having the resilience and the trust that they could get to the other side of the pandemic with their business intact.
Thankfully their digital investment strategy paid off and they are now proud owners of a profitable business.
In fact, they've even hired additional full-time employees as well as casual staff for the busy Christmas season.
"It's been fantastic to see the outcome of successfully executing our post-COVID plan and flipping the scenario from not knowing if we had a business by end of 2020 to having hired two salaried staff in June 2020 to keep up with demand," Alan says.
"After 18 months with no significant equity injection, we are running a profitable business without any more founders' funds."
Beyond the success Altina Drinks has had this year, there are further expansion plans in the pipeline.
"We are planning for national distribution to expand our alcohol free cans and bottles through bottle chains such as Dan Murphy, BWS and Liquorland," Alan says.
You can purchase your next round of alcohol-free drinks direct from https://altinadrinks.com/